Quinn Popcorn Review
Disclosure: I was not financially compensated for this post. I received a sample of the product for review purposes. The opinions are my own, based on my personal experience with the product.
Last year I had the privilege to work with the great people over at Quinn Popcorn on a review of three of their flavored popcorns. I was blown away by the taste of their product, and really impressed with what they stood for as a company. When new flavors came out and they asked again if I would like to do a review, I couldn't wait for the samples to get to my front door!
I received three boxes of Quinn Popcorn's latest flavors for review – Butter & Sea Salt, Olive Oil & Herbs and Hickory Smoked Cheddar. As with all of their flavors, these are made with organic and non-gmo ingredients. Being a big butter on popcorn fan, I tried the Butter & Sea Salt flavor first. I cannot even begin to describe how fantastic this flavor is. It's rich and flavorful, with the perfect amount of both butter and salt. Beyond how wonderful it tastes, I love the fact that unlike other brands, Quinn Popcorn uses real butter, not "butter flavor" – I think it really makes a big difference. It really tastes clean and pure, and I love being able to snack guilt free! The Olive Oil & Herbs and Hickory Smoked Cheddar flavors both impressed me as much as the Butter & Sea Salt. Another great thing about Quinn is the popping process – you pop, add the oil flavoring, shake it up, add the powder flavor, shake again, and you've got gourmet popcorn ready to eat! My kids think it's fun and I'm happy to share the Quinn goodness with them.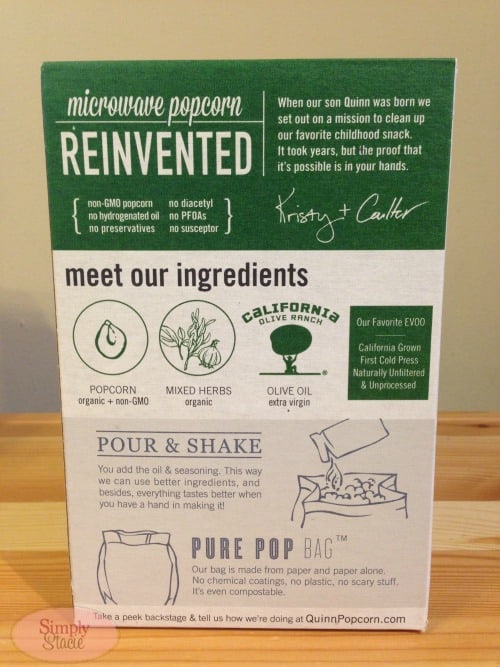 Looking to revolutionize the microwave popcorn industry, Quinn Popcorn set out to create a product that you could feel good about eating and sharing with your friends and family. They never use GMO ingredients or preservatives and the popcorn is organic. Their expeller pressed oils are high in omega-3′s. Even the bag has been revolutionized – there are no chemical coatings – no PFOA, no PFCs, no Poly, etc. What's left behind is a bag that's made from grease-proof paper. That's it! Each box of popcorn comes with two bags of popcorn and the oils and powders for each bag. You can buy any three boxes on the Quinn website for $14.99. To find a store near you that carries this brand, check out their retail locator.
To learn more about Quinn Popcorn, check out their website.