Larsen Toy Lab Review
Disclosure: I was not financially compensated for this post. I received a sample of the product for review purposes. The opinions are my own, based on my personal experience with the product.
If you're like me, you already have the holidays on your mind! With fall in the air and school back in full swing, my thoughts are already turning to Christmas. I like to put a lot of thought into what I give my family and friends, and especially my children. If you're shopping for some young ones this holiday season, I'd like to introduce you to a company that makes wonderful, quality toys that will entertain for ages, and last for years to come – Larsen Toy Lab.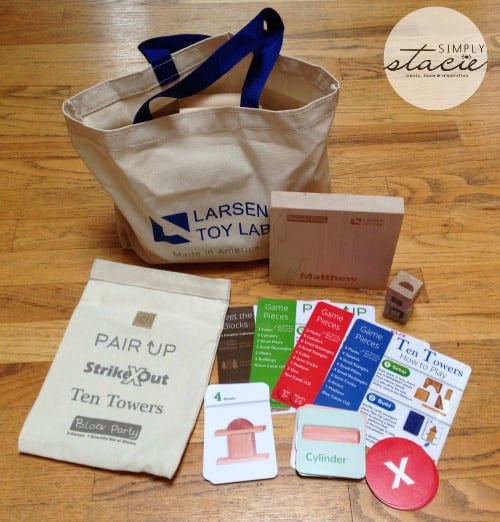 We received a Block Party set from Larsen Toy Lab for review. This is a set of quality, beautifully made blocks that includes instructions and playing pieces for three different strategic games. The blocks come in a sturdy canvas bag – which is great for easy clean up and storage. The game pieces come in their own canvas bag with a Velcro closure, keeping them safe and secure from the other pieces. My boys were excited to dig in to the block bag and immediately started to build cities for their little figures, ramps for their cars, and towers to knock down and build up again! My boys both shared and collaborated on their creations, and have already spent hours enjoying the simple fun of building. The Block Party set sells for $78 on the Larsen Toy Lab site, and includes personalization. This set would make a wonderful gift for a young child, and it can grow with them and become a great addition to family game night. These truly are blocks that will last to entertain my children and, in time, my grandchildren!
Now through Friday September 20th, Larsen Toy Lab is running a contest on their Facebook page that gives you the opportunity to win a Block Party set of your own, along with other great prizes!
Larsen Toy Lab was started by siblings Alex and Courtney who wanted to continue the tradition of creating quality wooden blocks, as their father did for them so many years ago. They wanted to make their blocks fun for all ages, and create them with the love and care their dad had when he made blocks for them. The Larsen Toy Lab blocks are made with consideration for the environment as well as for the safety of the children who will be using them.
You can learn more about Larsen Toy Lab by visiting their website. You can also find them on Facebook, Twitter, and Pinterest.