Ever-Pretty Dress Review
Disclosure: I was not financially compensated for this post. I received a sample of the product for review purposes. The opinions are my own, based on my personal experience with the product.
My husband and I recently celebrated our anniversary with a romantic dinner at the beach. I was nervous about finding just the perfect dress for this special occasion. I am still in the process of losing a few pounds so I am very self-conscious about the process of dress shopping. Thankfully, my anxiety vanished the moment I started browsing the fabulous dress collection at Ever-Pretty! This online dress boutique has an amazing selection of special occasion dresses for virtually every occasion. Best of all, the dresses are very nice quality and very attractively priced!
In fact, Ever-Pretty has over 400 dresses to choose from and is frequently adding new stock. There are evening dresses, cocktail dresses, bridesmaid dresses and party dresses that would be fabulous for upcoming events and the holidays.
I had a wonderful time navigating the user friendly web store which conveniently makes shopping easy with categories such as shop by color, hemline, recommended styles, bestsellers and more. This really helped to narrow my selection to a few beautiful dress options. I ultimately chose the Blue Flower Unique Ruffles Empire Waist Short Wedding Dress (SRP $45.98 on sale from $54.10) for our anniversary dinner. I am thrilled with the quality of this dress as it is so feminine and classy with chiffon fabric and an extra touch of elegance as it is lined. The empire waist style is very flattering and I felt quite confident when wearing this dress. It has non-adjustable straps which fit me perfectly and the padded bra is a nice feature (I did wear a strapless because I have a larger bust) for gals who prefer to go without. I was especially impressed with the true sizing as I am a 14 but have had bad luck with dresses that have no stretch like this one in the past. Therefore, I decided to order a size 16 figuring I could also have it sized smaller as I continue to lose weight. I was very excited to learn that I could have indeed ordered a 14 as the size 16 was too big for me and in the future I will order my true size. Ever-Pretty does have a sizing chart available for each dress so I will be sure to use this when purchasing my next special occasion dress. When my husband whistled when I came out wearing this dress and my children told me I was beautiful, I knew that I had made the right choice!
I also selected the White Chiffon Evening Shawl ($8.99) which is the perfect accessory for this beautiful dress. There are a wide range of colors to choose from so you are sure to find an evening shawl to match your dress at Ever-Pretty!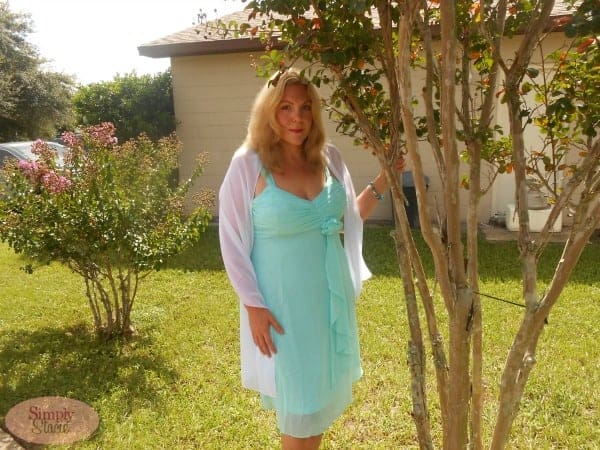 With high quality, fashion forward dresses and accessories at attractive prices, shopping at Ever-Pretty will be my first choice anytime I need a special occasion dress! You are invited to visit Ever-Pretty to browse the entire selection of beautiful dresses and select your favorite dress in the collection.