emzone Automotive Care Review
Disclosure: I was not financially compensated for this post. I received a sample of the product for review purposes. The opinions are my own, based on my personal experience with the product.
I value a clean home and I spend time daily on the upkeep. It's not something that I mind doing. My car on the other hand…well, that's a different story. I let it get way too bad and it was in need of some serious TLC. In the past, I've never enjoyed cleaning the car. It's always been so much work washing it with the water hose and hooking up an extension cord to bring the vacuum outside.  This past weekend though, I spent a good hour outside in the driveway cleaning the inside and outside of my car. It looks (and smells) a million times better and really wasn't so bad. Now that I've got it in good condition, I intend to keep it that way!
Another shocking thing was that I cleaned it without using any water! Yep. I didn't know that was even possible until I discovered emzone Automotive care products. Let me tell you a bit about them and what I used to get the job done.
It was a nice sunny day last Saturday so I made my way out to the driveway and told John I was cleaning my car. I don't think he believed me because he laughed. I thought I'll show him how it's done! I started on the tires with emzone Foaming Tire Shine. It cleans, shines and protects tires in one step. Just spray it on the sidewall and it will work to dissolve the dirt…no wiping required! I like how simple it was. Just spray and walk away. You can also use it on other rubber surfaces like mud flaps, bumpers and trim. My tires looked like new!
The Waterless Wax & Wash was the next product I used to both wash and wax my vehicle in two steps! My car was DIRTY….
This product intrigued me the most because I thought how can you effectively wash your vehicle without water? The answer is that you can very easily with this product. I sprayed it on the car in small sections. Then I wiped it down with a Microfibre Cleaning Cloth. Then I took a second microfibre cloth and buffed. The dirt was gone and the car was clean and shiny. Just look at the difference.
It's made with Carnauba wax which protects and makes it pretty and shiny. It's also formulated to offer UV protection and repel dirt and dust. I had dirt and bug splatter on the hood and it was easily wiped away.
Because this product requires no water, I'll be able to still use it in the winter. I guess now I really have no excuse to let it get this dirty again.
Next up was the windows. I used emzone Foaming Glass Cleaner to clean the front and back windows and passenger and driver side windows. All you have to do here is spray it on the window and wipe it off with a soft microfibre cloth. It removes bugs, dirt and grime and can be used on windows, mirrors and other glass surfaces. I liked that it didn't streak or leave a film on the windows. In fact, my windows looked so clear that they were like mirrors. Just look….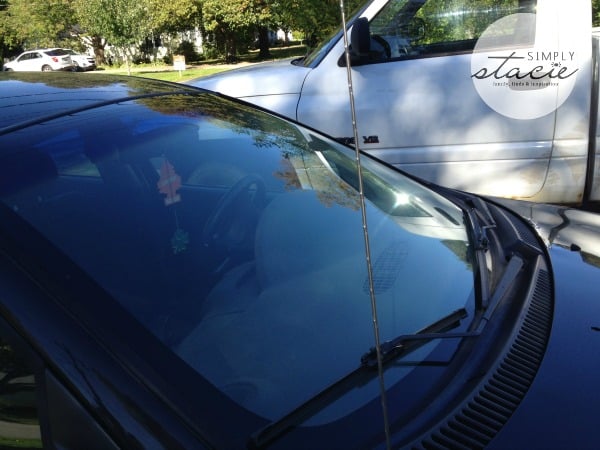 This product worked so well that I'll be using it to clean the mirrors in my house too. If you've got a glass coffee table, this would be a great product to use to clean it. It will clean and shine chrome, stainless steel, porcelain, tiles and countertops. There's a lot of different ways I can use this product in my home. Love that!
Now that the outside of my car was done, I was ready to tackle the interior. We bought a shop vac so I wouldn't have to use the vacuum cleaner. I vacuumed out all the dirt and threw out any debris that was left in the car before I started. Boy did it need that! Then I worked on the seats and floors using emzone Carpet & Upholstery Foam Cleaner. It works to clean and remove stains from carpets, fabric and vinyl. To use you spray it on and then scrub it with the brush that comes with it to loosen up the dirt. Dry the area with a towel and vacuum again. My seats are old and worn already, but the carpet looked like new. There were stains in the carpet that I thought were permanent and I was surprised they came loose with the cleaner. I was able to vacuum all the loosened dirt up. It looked and smelled awesome!
You can also use the emzone Carpet & Upholstery Foam Cleaner inside your home too. Use it to clean your couch or carpets. I've got an old mat at our back door that needs some sprucing up.
I used an Air Duster Mini to loosen up dirt in tight spots. It worked great to clean the cupholders in my car. This is a handy product that can be used anywhere in your house where you need to blast away dirt in a small space.
If you've got a GPS in your vehicle or have a built-in LCD or Plasma screen, use LED, LCD & Plasma Screen Cleaner Foam is perfect to remove fingerprints and dirt. My car is older so I don't have anything that fancy, but I did use this product to clean my laptop screen and my Google Nexus Tablet. It leaves no drips or streaks!
The final touch on my car was a quick spritz of OdorStop Fabric Refresher. It works to eliminate odours and freshen up fabrics. I sprayed it on the seats and floor in the car until it was slightly damp. I let it sit overnight and the next day when I went in the car, I couldn't get over how fresh it smell. Gone was the gross, stale air that I was used to. Instead it smelled almost like a new car!
With the cold weather coming soon, you know what that means right? Salt on the roads. I know it's necessary to keep the roads safer, but it wreaks havoc on your vehicle. I think the vehicle floor mats always look the worst. emzone has a product to combat salt stains (and other stains). Give emzone Salt And Stain Remover a try on any unsightly stubborn stains on your floor mats, carpet or upholstery.
With my car like new again, John wanted me to work on his truck. I told him maybe this weekend if the weather was nice! However, I did use a can of emzone OdorStop to combat the smell in his truck. OdorStop works to neutralize odours caused by cigarette smoke, mildew and mold. It's a one time use product that works with your vehicle's ventilation system to stop the smell at the source. John smokes in his truck so it doesn't smell the greatest in there.
Using OdorStop is easy. Start the vehicle making sure all the windows are closed. Then turn on the Air Conditioning to maximum and make sure the recirculator is on. Place the can of OdorStop vertically on a flat surface (like the floor of the vehicle). After pressing the button on the can to release the product, exit the vehicle. Let it sit for 10 minutes like that (make sure no one goes in!). After 10 minutes is up, open all the doors and windows for another five minutes. It smells 100x better in his truck now! His old truck smells like new and the cigarette smell is gone.
I was very impressed by how well all the emzone automotive care products worked and how I could use them to not only clean my car, but also could use them to clean items in my house as well. Now I need to maintain the work I've done on the vehicle. I'll never let it get that bad again especially now that I've got products that make the job so easy. Visit emzone to learn where you can buy their products in your area.
Also, check out my review of emzone Computer & Electronics Care products!