Disclosure: I was not financially compensated for this post. I received a sample of the product for review purposes. The opinions are my own, based on my personal experience with the product.
Are you worried about aging skin? I am 40 years old and have a lifetime of sun damage as a Florida native. With a recent skin cancer scare affecting the skin on my neck, I am passionate about using anti-aging beauty products that are specifically designed to help protect my skin and keep it looking its best.
Dr. Moy is a renowned cosmetic surgeon and scientist in Beverly Hills, California and he has created a skin care product line which targets aging skin and the philosophy is "Repair the past. Protect the future".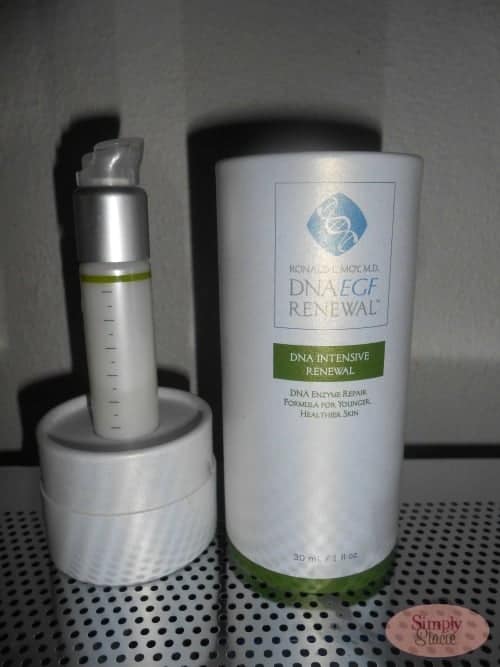 I have been using the DNA EGF Renewal's DNA Intensive Renewal ($125 per 1 oz. bottle) skin care formula for the past 30 days and really like this product. I appreciate that it helps to target damage done to the skin by environmental stresses to help restore moisture, reduce fine lines and wrinkles and help to stimulate the skin's DNA repair process. As a woman who has faced skin cancer early in life and whose father lost his battle with skin cancer, it is so important to me to use products that don't just promise I will "look young and beautiful forever" (though that would be nice) but instead focuses on protecting the skin to help keep it as healthy as possible. This particular product, DNA Intensive Renewal uses a quick acting liposome delivery system with a high concentration of DNA Repair Enzymes which is uniquely light-activated so that it works to help repair damage even during the daytime. The ingredients such as Salicornia Herbacea Extracct and Rapeseed Sterols are noted to help provide a lipid barrier to enhance a more glowing and radiant complexion while Alba Flower Extract soothes inflammation and Nonopeptide-1 is included to target UV damage and uneven pigmentation.
What did I notice personally when using this product once daily in the morning after cleansing my face? I have hyperpigmentation from sun damage and started to notice that my skin had a smoother and more even complexion. I don't wear a lot of make-up so it was encouraging to have people comment that I have nice skin even when my face was bare of anything except this product. I had a few patches of red inflamed skin near my nose and on my forehead which was diminished significantly after 30 days of use and the dry, itchiness had vanished completely. I only use a tiny amount of product so a 1 ounce bottle of the DNA Intensive Renewal lasted for a long time.
You are invited to visit DNA EGF Renewal to learn more about this product as well as browse the entire selection of the highest quality skin care products available from Dr. Moy. Overall, I am very satisfied with the results that I am seeing from using this product and keeping my skin as healthy as possible using products that actually deliver noticeable results is priceless to me.
Connect with DNA EGF Renewal on Facebook.