Trance Blu-ray Review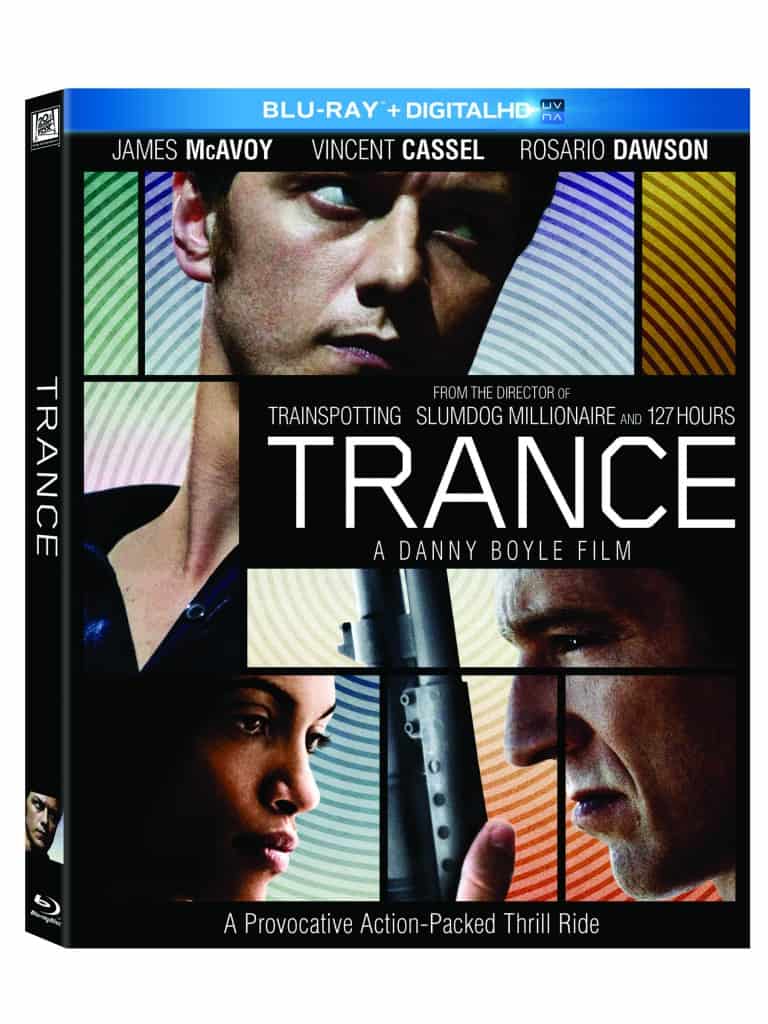 Disclosure: I was not financially compensated for this post. I received a sample of the product for review purposes. The opinions are my own, based on my personal experience with the product.
Title: Trance [Blu-ray]
Release Date: Blu-ray and DVD on July 23 and DigitalHD™ on July 2
Synopsis:
From ACADEMY AWARD®-Winning director Danny Boyle* (Slumdog Millionaire) comes an "exhilarating brain-twister" (New York Post)! After a blow to the head during his attempted robbery of a $27 million Goya painting, Simon (James McAvoy, X-Men: First Class), a fine-art auctioneer, awakens to find that the painting – and his memory – are missing. Forced by his ruthless crime partner Franck (Vincent Cassel, Black Swan) to undergo hypnosis, Simon enters into a deadly love triangle with his seductive hypnotist (Rosario Dawson, Sin City). As the plot twists, the line between reality and dream becomes blurred in this fast-paced, unpredictable, "sexy and suspenseful" (Empire) thriller.
Special Features:
BD Exclusive Features
● Theatrical Feature Blu-ray
● Deleted Scenes
● Trance Unraveled (Easter Egg)
● The Power of Suggestion-Making Trance
● Kick Off
● Danny's Film Noir
● Hypnotherapy
● The Look
● The Final Rewrite
● Danny Boyle Retrospective
● Short Film: EUGENE by Spencer Susser
● Theatrical Trailer
● UV Copy
DVD Exclusive Features
● Theatrical Feature
● Hypnotherapy
● The Look
● The Power of Suggestion-Making Trance
● The Final Rewrite
● Theatrical Trailer
My Review:
Trance starts out with a bang and had me on the edge of my seat. I thought to myself that this is going to be a great movie! It begins with an elaborate heist where a famous painting is stolen from an auction house….right in the middle of the auction! Simon, the art auctioneer, knows the drill when there is an attempted robbery: take the most valuable painting and put it in the vault. When the tear gas goes off, he calmly and mechanically follows this procedure that he's practiced over and over again. He's almost at the vault when he is greeted by one of the thieves. He's hit over the head, knocked out and the painting is gone….or so it seems.
As it turns out, Simon was actually working with the bad guys (you'll learn this right away so it's not really a spoiler) and his role in the heist was all planned out. However, there's a snag. Simon removed the painting and stashed it somewhere and he has no memory at all of where he put it. Even some torture by his partners in crime could not jog his memory. That's when Franck, his crime partner, decides he should see a hypnotherapist.
He meets with an American hypnotherapist named Dr. Elizabeth Lamb. And this is where the movie starts to go downhill for me and become confusing! Dr. Lamb becomes involved with the whole crime scenario and wants to help find the painting (and take a cut of the $). She becomes romantically involved with both Simon and Franck. It just seemed weird to me how all of the sudden she took an interest in Simon (and his business) and worked her way in there forcefully. After watching the movie, it made sense, but during it when I had no clue what was happening, it just didn't feel right to me.
There's a number of scenes where I wasn't sure if it was reality, a dream or a trance. I didn't like not knowing which was which. It made me feel cheated when I saw that all that took place was just a dream!
Prepare for some violent scenes and nudity. This is definitely an R rated film. There's one scene that was pretty violent and I shut my eyes a little too late. It's not for the faint of heart!
I liked how everything came together at the end and the questions I had throughout the movie were explained. It made a lot more sense to me after watching the ending. I'd actually like to watch it again to see if I missed anything now that I know the back story. I think I may have a different experience watching it for the second time!
If you enjoy a good psychological thriller, give it a try!