Book Review | Raising Respectful Children in a Disrespectful World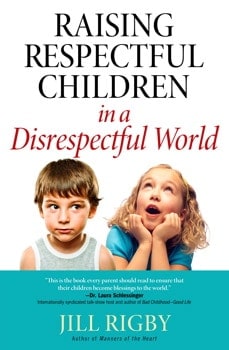 *I received a copy of this book for review, but was not compensated financially in any way. The opinions expressed are my own and are based solely on my experiences while reading this book.*
Title: Raising Respectful Children in a Disrespectful World (Motherhood Club)
Author: Jill Rigby
My Review:
My husband and I are raising three children ages 8, 6 and 5. We are united in the parenting choice to teach our children the principles of character building and respectful behavior. As a mom who has observed how outside influences affect my children, I think that it is more important than ever to focus on raising responsible, respectful people.
Raising Respectful Children in a Disrespectful World (SRP $14.99 trade paperback) by Jill Rigby is a wonderful resource for parents (like me) who need guidance as we teach our children values and life skills. What I appreciated immediately upon starting to read this book is that the author writes to parents in a relatable manner that can be applied in real life situations. I found myself nodding knowingly and being able to relate to the examples written about.
Since children are allows learning new skills it is important to me to be able to reference to their specific age group which the author does effectively. This allows me the ability to refer to categories pertaining to their current group i.e. the "tot and tyke years" and ultimately get ready for the tween and teen years to come.
I value that it teaches ways for parents to promote self-respect and respect of other in our children. I especially enjoyed reading the chapters titled, "Teach Gratefulness, Not Greediness" which I believe is extremely valuable, "Coach, Don't Cheerlead" and "Use Discipline, Not Punishment". I appreciate that Raising Respectful Children in a Disrespectful World is based in scriptural principles and has a biblical approach that I find especially important for my family personally.
While my children will never be perfect, I have gleamed valuable information and tools to help my husband and I learn how to best teach them to be respectful, loving children who will hopefully grow into responsible, respectful adults. I highly recommend this book to all parents who need extra guidance in this area as it was very helpful to my family! It even includes a group study guide so this would be perfect for Mommy Groups, homeschooling co-ops etc.