MyCouponKeeper Deluxe System Review
Disclosure: I was not financially compensated for this post. I received a sample of the product for review purposes. The opinions are my own, based on my personal experience with the product.
I have always clipped coupons and have used several different organizing systems over the years. I had never found the perfect fit until I had the opportunity to try the MyCouponKeeper system. Instead of a bulky coupon binder that I had been lugging to the store or even worse a pile of coupons floating around inside my purse, I can now head to the grocery store with confidence that I will save time and money using the MyCouponKeeper organization system.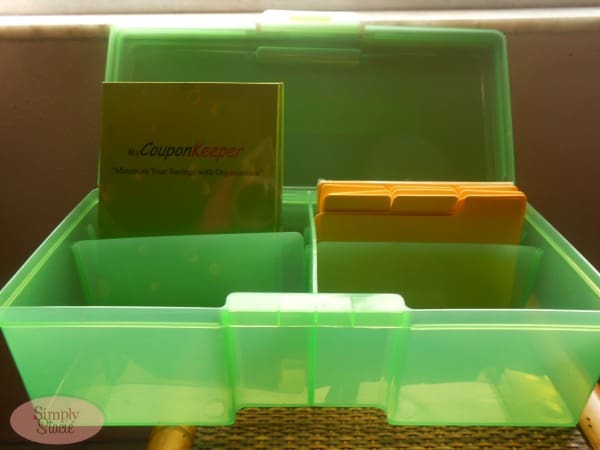 MyCouponKeeper is a coupon organization system that makes it easy and less frustrating to access valuable money saving coupons. What makes this coupon system unique is that is starts with the coupon box which holds over 1,800 coupons. The coupon box is easy to access, stores coupons securely and makes filing away coupons so much easier than my binder method. The
The MyCouponKeeper Deluxe System includes a Coupon Box, 2 Adjustable Dividers, 3 Purse Sized Shopping Folders, 48 PVC Coupon Guides, 55 Pre-Printed Category Labels and 1 over-sized Reusable Shopping Bag!
Every Sunday, I clip the coupons I plan to use from the newspaper inserts and file away in my coupon box. I also add coupons that I clip from magazines or other sources throughout the week. This coupon system includes custom sized dividers and pre-printed category labels so I can add the categories in my coupon box that I use personally.
When I am ready to go shopping with grocery list in hand, I remove coupons from the coupon box and add it to the left side of the purse sized folder included with the system. When I add an item to the shopping cart, I simply move the coupon to the right side. When I enter the checkout line, I simply hand the coupons to the cashier saving lots of time and avoiding extra stress or frustration. If I have a larger sized shopping trip and no list, then I simply take the coupon box along with me to the store so I have access to all my coupons.
Putting the MyCouponKeeper coupon organizer into action was a breeze and I really like how easy it is to use in "real life". I had become so frustrated and overwhelmed prior to using this system that I gave couponing a break for a few months and I am so glad that I am back on track to saving my family money at the grocery store.
You are invited to visit MyCouponKeeper to learn more about how this coupon organizing system works and purchase the MyCouponKeeper Deluxe System for only $42.99 or browse the other available coupon organizational sets and accessories.
Simply Stacie Exclusive: You can save 10% off your purchase of a MyCouponKeeper using the code: SimplyStacie (case sensitive) on checkout!