Inspiring Teachers
Disclosure:  This post is sponsored by Participant Media. All opinions expressed are 100% my own.
I consider myself a lifelong learner. I'm not in school anymore, but that doesn't mean I'm not reading or trying to keep on the latest developments in the subjects that interest me. I think my love for learning started at a very young age. I was an extremely shy little girl and very sensitive. My kindergarten teacher even remarked on my report card that "Stacie cries very easily". That hasn't changed much in 31 years! I credit my teachers for helping me to come out of my shell and for influencing my thirst of knowledge.
When I look back at my school days, there's a few teachers that really stand out and some who even inspired me to be the person I am today. Mrs. Stoneman was my grade one teacher who was so kind and went above and beyond her duties to help me try and fit in. I moved to Mrs. Stoneman's class in the middle of the year and being the shy kid that I was, I was really struggling to fit in. I remember Mrs. Stoneman coming over to our house for a visit one afternoon. She brought with her lots of books since she knew I loved to read. That made me feel really special and more comfortable in my new class.  Her visit was on her own time and definitely something that most teachers don't do. I think that elevates her to a whole new level of a dedicated teacher who really cares about her students' well-being.
Then there was Mrs. Metzger, my grade three teacher. I loved our music classes where Mrs. Metzger would play the classroom piano and we'd sing along from our music books. Mr. Pool was my grade four teacher. He used to take an hour or so once a week and read the class stories. I remember a few of them being stories from the Bible. That's where I first heard the story of Joseph and the Amazing Technicolour Dreamcoat. The picture below is my grade four class.  See the kid with the short brown hair in the middle row standing next to the teacher? That's me. Notice the crazy shirt? Yep, it was the 80s.
Mrs. Stoneman, Mrs. Metzger and Mr. Pool are three examples of teachers who have had a positive impact on my life. There's many more teachers I could talk about, but this post would be way too long to mention them all! I think many of us have all had a teacher who made a difference in our lives. Whether that teacher inspired you, changed you, scared you or gave you a new perspective, they've all served a purpose in helping us grow, learn, change and become who we are today.
TEACH Documentary
If you have kids in school or have had a teacher who impacted your life, I encourage you to watch Davis Guggenheim's documentary, TEACH, about education in America. He asks this very important question: What Does It Take to Be A Great Teacher Today?  The TEACH air date is on September 6th at 8pm ET on CBS and September 18th at 8pm ET on Pivot.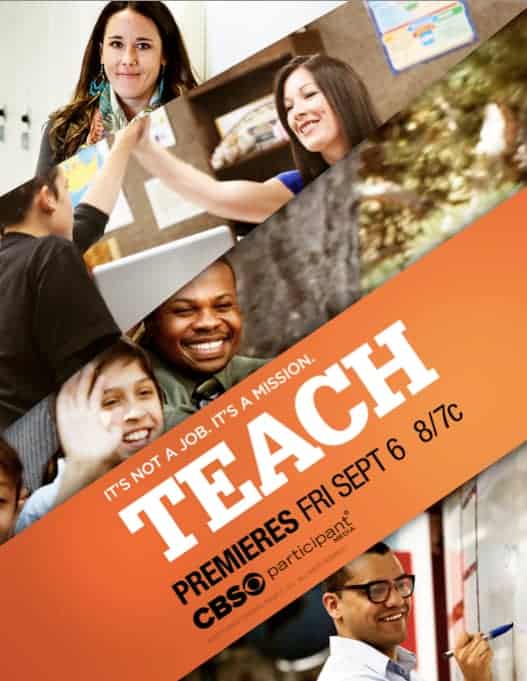 The documentary follows four teachers from different schools across the USA over the course of a school year. It shows viewers a unique perspective into the challenges, demands and rewards of teaching and learn how for many teachers, teaching is not only a job, but also a mission. 
Check out the trailer of TEACH!
Looks intense right? I'm interested in seeing how these teachers motivate and inspire students and how they handle obstacles in their path. I have a great respect for teachers. They always have to be learning, adapting and innovating. I'd imagine it would be an extremely rewarding career to know that you made a positive impact on so many people's lives. 
Did you have a teacher who inspired you or help you become the person you are today?