Guidecraft PowerClix Review
Disclosure: I was not financially compensated for this post. I received a sample of the product for review purposes. The opinions are my own, based on my personal experience with the product.
As a member of the Guidecraft Educator's Blog Team, I am continuously impressed with the high quality, educational toys that are available at Guidecraft! The latest toys added to the exceptional Guidecraft collection are PowerClix. This innovative building system is a big hit with children of all ages 5+ as it promotes endless creativity and infinite design possibilities.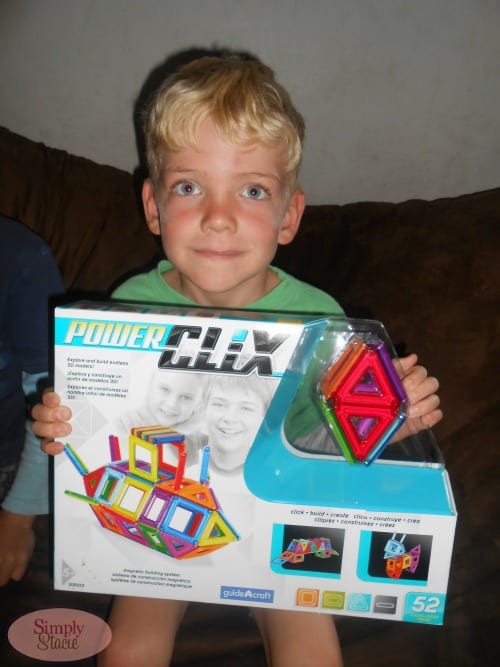 PowerClix are made of vibrantly colored translucent pieces that click-together instantly using magnetic force. The children's faces were beaming when they realized that the pieces join together effortlessly to make building a breeze. My eight year old future architect was so impressed that he launched into a speech about the "dynamics of magnetic force" as he proceeded to start building his "city".
Children can build so many different objects including bridges, skyscrapers, geometric shapes, houses…..the sky is the limit! There are step-by-step instructions that are easy to follow or kids can try our favorite use which is for open-ended play. The kids are engaged in play for long periods of time and this is a frequently requested toy for both class and playtime. Each of the PowerClix pieces is very durable and designed to safely withstand lots of child play so it will be sure to get lots of use of the years.
I appreciate that Guidecraft has so many wonderful options like PowerClix that don't require batteries and encourages children to step away from electronics and battery operated toys to engage in active play that is creative, educational and fun.
PowerClix would make excellent gift ideas for a special occasion and are perfect for both home and the classroom. There are four sets available ranging in price from $24.95 for an 18 piece set (a great way to get started) to $99.95 for the 68 piece building set.
You are invited to visit Guidecraft to browse the entire selection of PowerClix building systems as well as view all of the high quality, educational toys and heirloom quality children's furniture. I have always been very pleased with the craftsmanship and quality of all the products we have in our home and classroom from Guidecraft. I feel very confident recommending PowerClix as a top toy for the upcoming holiday season!