Goldie Blox™ and the Spinning Machine Review
Disclosure: I was not financially compensated for this post. I received a sample of the product for review purposes. The opinions are my own, based on my personal experience with the product.
Only occasionally do I discover a toy that is absolutely exceptional in terms of learning and entertainment value. The Goldie Blox™ and the Spinning Machine toy is one of those rare treasures that is one of those extraordinary toy created specifically to empower little girls!
My six year old daughter, Hannah has two brothers and she loves to build alongside of them. Goldie Blox™ and the Spinning Machine is an engineering toy for girls. It features a character named "Goldie" who is a confident girl inventor who loves to build. Hannah's eyes lit up with excitement when she first laid eyes on the Goldie Blox™ toy and she said, "WOW, this building set is just for me…..maybe I will let the boys play with me and maybe I won't" (she did let them play for the record and they loved it too).
What is Goldie Blox™ and the Spinning Machine? It is an Oppenheim Best Toy Award winning construction toy for girls. It features an instructional book complete with design plans so that the child can build along with "Goldie" and create a spinning machine and 14 designs too. I enjoyed passively watching Hannah building her spinning machine and appreciate that this toy encourages valuable skills such as problem solving, engineering applications suitable for children and the confidence and excitement that comes when the project is seen in action. My daughter and her brothers cheered and screamed with joy watching their spinning machine in motion. Once it was complete they had fun rebuilding and trying different engineering designs some of which worked and some which didn't. When the kids found a design that didn't work, it was wonderful to see them working together to try to solve the problem.
Hannah continues to play with Goldie Blox™ and the Spinning Machine at least once a day and loves her adventures with "Goldie". She enjoys trying to read the instructions herself as she is beginning to read more challenging text. If she needs help she will ask me to build with her and it is always a lot of fun for both of us.
Goldie Blox™ and the Spinning Machine empowers girls to feel the confidence to tackle areas that are normally reserved "just for boys" and lets her know that when she grows up she too can be an engineer or architect if this is her passion.
This set includes 1 book, 1 pegboard, 10 axles, 5 blocks, 1 ribbon, 1 crank, 5 washers, 5 characters and 14 design ideas. It would be a perfect gift idea for a special occasion or holiday and is great for homeschoolers too.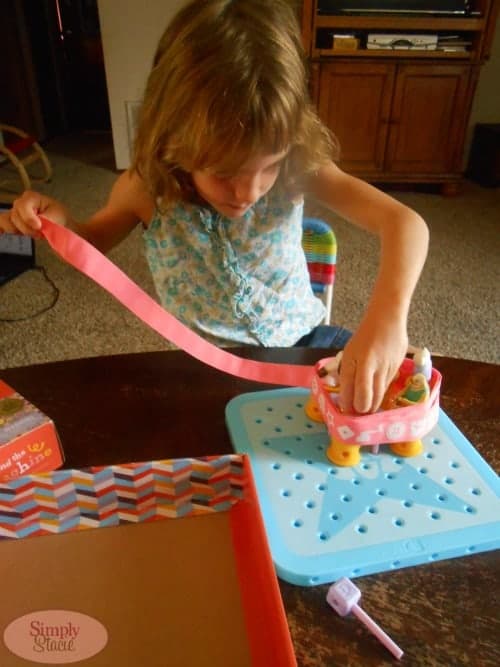 You are invited to visit Goldie Blox™ to see this product in action and purchase one for a very special girl in your life!