emzone Computer & Electronics Care Review
Disclosure: I was not financially compensated for this post. I received a sample of the product for review purposes. The opinions are my own, based on my personal experience with the product.
I value a clean house and spend time everyday on the upkeep. However, there's one area I've been slacking on and frankly, it's just embarrassing. It's my laptop. I use it everyday for hours to work on my blog. During this time, I drink my coffee, eat and usually have my cats, Princess & Misty, climbing all over me for attention. It was in a pretty sad state. What's even worse is that I got used to the dust, grime and dirty screen and it was only until we had a guy over to set up our Internet that I finally clued in to how badly it needed to be cleaned. I'd tried in the past to use glass cleaner sprayed on some paper towel, but that never worked well.
I'm happy to report that my laptop (and other electronics in my home) have never looked better! emzone sent me a bunch of their Computer and Electronic care products to try and I've been working away getting everything looking brand spankin' new again.
emzone is a Canadian company that started in 2007 with an automotive care line. People loved their products so they also expanded into Computer and Electronic care products. I'm a fan after using their products. I was amazed at how well they worked. How did I not know about this company? Either way, I do now and will continue to use their products.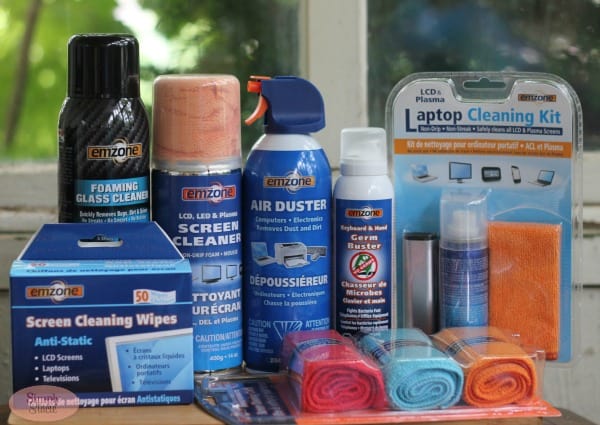 Let me tell you a bit about the products I tried and how I used them.
Air Duster:  It gets rid of dust, grime and lint on keyboards, printers, electronics, etc. It leaves no resideue and contains no CFCs and is ozone friendly. When I worked in the accounting office in Edmonton, we used a product like this to clean our keyboards. My air conditioner needed a good cleaning. The dust and grime was building up and I felt grossed out knowing that we were breathing that in. I used the Air Duster to blast away the dirt on the air filter. The can gets cold really quickly! It worked wonders though and all the grime came right off it.
Screen Cleaning Wipes: These are individually wrapped wipes that are anti-static and can be used to clean computer monitors, tablets, LCD screens, TV screens, etc. They are alcohol free and won't scratch, streak or drip on surfaces. We have two LCD TVs and John once freaked on me when I cleaned it with some Windex and a paper towel. I used one of emzone's Screen Cleaning Wipes and it wiped off all the dust and fingerprints. It's a much clearer picture now. It dries really fast and didn't streak or leave any residue.
Laptop Cleaning Kit: Hands down, this was the product I needed the most. My poor laptop had seen better days. This kit comes with a Screen Cleaner, MicroFibre Cloth and Brush. The Screen Cleaner is ammonia free and wipes off dirt, smudges, spots, and germs that are stuck on your screen. I sprayed some on and then wiped it dry with the MicroFibre Cloth. I used the brush to clean my keyboard which had dust and stray cat hairs. My kitty, Princess, loves to plop herself on me while I'm trying to work.  I love her, but I don't want her hair sticking to my laptop anymore! I'll be cleaning it regularly now, I promise!
LED, LCD & Plasma Foam Screen Cleaner with Cloth: Our family computer is a mobile desktop with a touchscreen. My daughter uses it to draw me pretty pictures on Family Paint. As you can imagine, it gets full of fingerprints very quickly. A touchscreen is so much more fun to use than a mouse. I used this product to get rid of the fingerprint smudges and make it clear and shiny again. It comes with a MicroFibre cloth in the cap so you just spray and wipe. I like that it doesn't drip or run. Once you spray, it stays where it lands!
Microfibre Cleaning Cloth (Triple Pack): These are a must-have for cleaning electronics! Use them on your electronic devices to dust and clean. They are soft, lint-free and non-abrasive. You can also throw them in the washing machine to clean them. I've been using them with the other emzone products to wipe things down.
Germ Buster: Perfect for germaphobes! It fights bacteria on keyboards, phones and office equipment. It dries really fast and I didn't even need to wipe anything down. I did all the cordless phones in our house. I'm sure they had lots of icky bacteria on them. This product would be perfect to bring with you when you are travelling. Hotel remotes and phones? Need I say more? I get grossed out even thinking about it. I'll be equipped with some Germ Buster the next time we stay in one. I wanted to mention that you should not use this product on LCD or plasma computer screens or TVs.

Foaming Glass Cleaner: With all the computers and electronics shiny and clean, I headed outside to my car with a MicroFibre Cloth and the Foaming Glass Cleaner. This industrial strength cleaner gets rid of bugs, dirt and grime that had built up over time on my car. I like that it dries quickly and doesn't leave streaks. The last time I cleaned the car using another product from a different company, John remarked that I had left streaks everywhere. This time I think they'll be no complaints! You can also use it to clean mirrors, countertops, tile, chrome and porcelain. We have a black tile countertop in our kitchen and it shined up so nicely with the Foaming Glass Cleaner.
With Back-to-school approaching, now is the time to get your home ready. Kids nowadays are computer savvy and rely on technology for their studies and social life.  Check the