Disney's Sword in the Stone 50th Anniversary Blu-ray Combo Pack Review
Disclosure: I was not financially compensated for this post. I received a sample of this product for review purposes. The opinions are my own, based on my personal experience with the product.
Disney is celebrating the 50th anniversary of The Sword in the Stone by releasing it from the Disney vault and welcoming to to Blu-ray for the first time on August 6th, 2013. The combo pack comes with the Blu-ray disc, DVD, and a digital copy so you can watch it anywhere, anytime.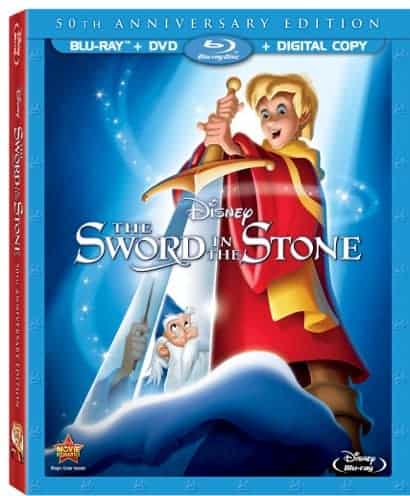 When I was little, and we still had the Disney Channel, my parents taped all of the feature-length animated films for me. The Sword in the Stone is one of many I remember watching repeatedly. I loved the idea of a magic sword stuck inside of a stone until the right person came along to pull it out and become a hero for all the land.
"Wart" (Rickie Sorenson) is an orphaned boy of about eleven or twelve who is under the care of Sir Ector (Sebastian Cabot). Wart spends his days working in the kitchen and training to be Ector's son's squire. Sir Kay (Norman Alden) is a bit of a brute and teases Wart.
When Wart serendipitously meets Merlin (Karl Swenson), Wart begins to recognize his true potential. Merlin is a wizard who can see into the future, and he knows it is his responsibility to groom Wart for the life he is destined to lead. Under Merlin's tutelage, Wart begins to gain confidence in himself and starts to see himself as more than just a future squire. Merlin is disappointed when Wart accompanies Sir Kay to a tournament that will crown the winner king, but what Merlin cannot see is that it's this fateful journey that will introduce Wart to his destiny.
The Sword in the Stone is loosely based on T.H. White's The Once and Future King, a fantasy novel I tried to read as a young teenager and now plan to try again now that I've watched the cartoon again and become interested in the legend of King Arthur once more. This has always been one of my favorite stories, and even though this interpretation is a watered down version of the legend, I still love it now that I'm an adult.
My five-year-old daughter watched this with me, even after telling me she didn't want to watch a movie. I started the movie while she was in the kitchen eating her dinner, and as soon as she was finished she crawled onto the couch next to me and couldn't come unglued from the TV. She laughed hysterically at parts she found funny, and for me it was more enjoyable to watch her reacting to the movie than to watch the movie itself. Even though this movie was made more than fifty years ago, it's passed the test of time and will be a hit with a new generation of Disney fans.
Bonus Features
Alternate Opening A storyboard depiction of an opening sequence that would lend more plot to the film, and also a bigger role and different look for Madam Mim–as well as the Black Knight!! No one knows why the idea was scrapped, but the movie would have been very different if they'd continued with it.
Music Magic: The Sherman Brothers Robert and Richard Sherman discuss their process for writing the music and lyrics for The Sword in the Stone. They explain it first starts with an idea, and then progresses from there. This feature also includes old pictures from the studio, drawings of film characters, and short clips from the film.
All About Magic An excerpt from Walt Disney's Wonderful World of Color where he performs some magic tricks and introduces viewers to the Magic Mirror from Snow White.
"A Knight for a Day" This is a short from 1947 featuring a jousting competition with a sport commentator-like feel to it.
"Brave Little Toaster" This is a short from 1938 starring Mickey Mouse in an adaptation of the fairy tale The Valiant Little Tailor.
Sing-Along Watch the film in its entirety in "sing-along" mode. Whenever a song is playing, the words are on the screen so you can follow along.