Disney's Super Buddies Movie Facts and Review #DisneyPlanesPremiere
*Disney provided me with an all expenses paid trip to Los Angeles to attend the red carpet premiere of Planes and to attend a special meet and greet with Cooper from Super Buddies. All thoughts and opinions are 100% my own.*
On August 27th, 2013 the adorable buddies will be yours to take home in the newest Disney Home Entertainment release of Super Buddies. As part of the Disney Home Entertainment trip I attended earlier this month, I got to meet one of the cuddly stars from the film!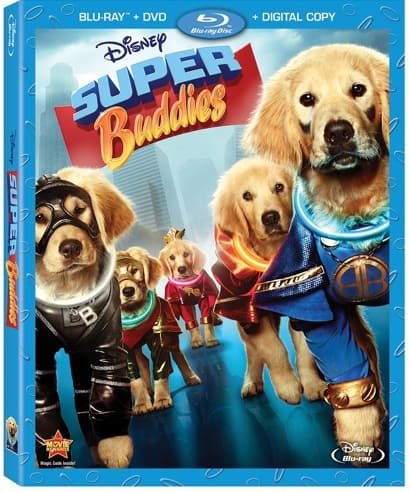 If you've ever wondered what, exactly, goes into training animals for a film, I now have a clearer idea after meeting the trainer of Cooper, the male golden retriever who is one of the puppies who plays the part of "Rosebud" in Super Buddies. The puppy's publicist and trainer were both protective of their young charge; in order for us to even get up close to pet Cooper, we had to sanitize our hands first. The trainer was right by Cooper's side to make sure he didn't fall off of his display area for our picture and to make sure Cooper remained professional. I absolutely adore dogs, and think a trainer just like Cooper's would have been really nice for some of the naughty beagles I grew up with!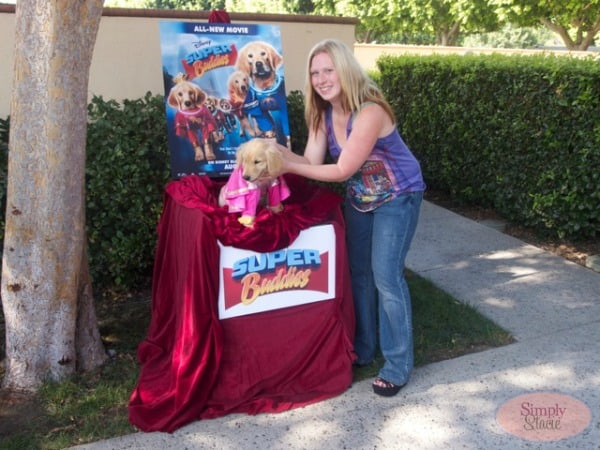 Perhaps the thing I liked best about how Disney goes about getting the dogs for their movies is that they never have dogs bred especially for the roles. They will look all across the United States for dogs that fit the age range and breed they are looking for. Best of all, each of the dogs is found a loving home after the movie is completed. In some cases, the dogs already have homes, and are just borrowed for the movie. Honestly, this makes me a lot more comfortable to know these things when it comes to movies involving animals!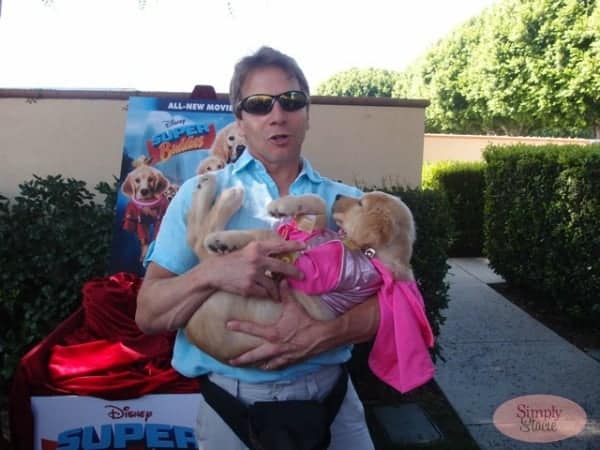 Movie Review
Bartleby Livingstone (Trey Loney) is an amibitious twelve-year-old who dreams of one day writing and illustrating superhero comic books—just like his hero, Jack Schaeffer (Jake Brennan). Bartleby and his group of friends love dressing up like superheroes, and including their buddies, lovable golden retriever pups, in the fun!
On his twelfth birthday, Bartleby and his friends discover that their favorite comic books are true, and that planet Earth is in danger when the evil Commander Drex lands his ship on Fernfield Farms in search of the Power Rings of Inspiron. But it's the Super Buddies to the rescue when they discover the rings themselves, and their best attributes are enhanced. It'll take teamwork and friendship to defeat Drex and return the rings to their rightful owners.
Super Buddies is the first film I have seen in the Buddies franchise. I'm overly sensitive when it comes to animal films, which is why I typically cannot watch them. At the time when the first Buddies film came out, I didn't have my daughter yet so it wasn't really on my radar.
After meeting sweet puppy Cooper earlier this month and some of the people who were involved in getting this latest film made, I was actually excited to see my first Buddies film. I couldn't get my five-year-old to sit down and watch it with me, but it wasn't long before she became interested in it and watched the rest of the movie with me.
Super Buddies offers more than I had expected from a direct-to-DVD family film. Cool special effects, bright costumes, and plenty of comedy and heart kept me entertained from the first minute to the last. I was especially surprised to see Colin Hanks providing the voice of Captain Canine, one of my favorite characters in the movie. There is also the positive message that anyone can be super—and they don't need special powers to be that way!