Coco Fresco Review
Disclosure: I was not financially compensated for this post. I received a sample of the product for review purposes. The opinions are my own, based on my personal experience with the product.
I love to find new healthier beverages that I can serve my children especially during the hot Florida summers when they are playing outside and need frequent hydration. While they drink primarily water, on occasion they like to enjoy a special treat.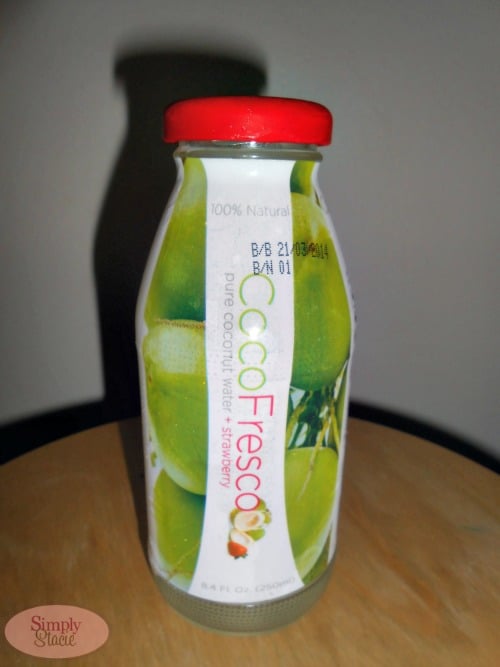 Coco Fresco Pure Coconut Water is an excellent option that also tastes delicious. This drink is made from pure green coconuts, is naturally fat free and it contains higher levels of potassium which is important especially in the heat when the kids and I need rehydrating. I love that it is lower in sodium than other hydration sports drinks and it is not full of added sugars so I can feel good about serving it to my family.
How does it taste? Coco Fresco is delicious and is available in natural (my favorite), strawberry and soon the company plans to introduce chocolate (yum)! My children really like the light berry flavor of the coconut water with strawberry flavor which just adds a hint of the real fruit along with the light, refreshing coconut water taste.
Even my husband who does not like coconut (he doesn't like the texture) thinks that this pure coconut water is quite nice as he sipped it from the chilled glass bottle. It is perfect by itself as a refreshing beverage and also makes a nice mixer for an adult beverage. My favorite summer alcohol free cocktail is to chill one bottle of Coco Fresco Pure Coconut Water, add it to my goblet with a splash of papaya juice and then top with club soda.
Coco Fresco offers us the perfect alternative to sugar laden sport drinks when we need hydration during our Florida summer outings. It is a must-have in our cooler for trips to the beach, pool and outdoor barbecues.
Coco Fresco is available for purchase on Amazon in a pack of twelve glass bottles or you can visit Mode Drinks to learn more.