A Girl for All Time Dolls & Doll Clothing Review
Disclosure: I was not financially compensated for this post. I received a sample of the product for review purposes. The opinions are my own, based on my personal experience with the product.
The first doll that my daughter, Hannah developed a lasting bond with is "Matilda" from the A Girl for All Time collection. She and I enjoy watching Downton Abbey together so her imagination soars with her very own doll based on British history. You can learn more about Hannah's experience meeting "Matilda" for the first time by reading my A Girl for All Time collection review.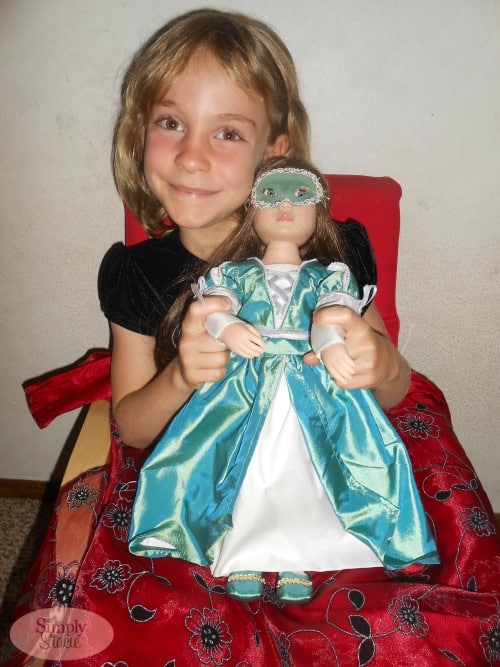 Hannah spends leisurely afternoons playing with Matilda and a tea party is one of their favorites. For special occasions the girls prepare to get ready for the Royal Ball. Every girl needs a beautiful outfit for the dance and Hannah was thrilled to help Matilda dress in the Ball Gown and Mask.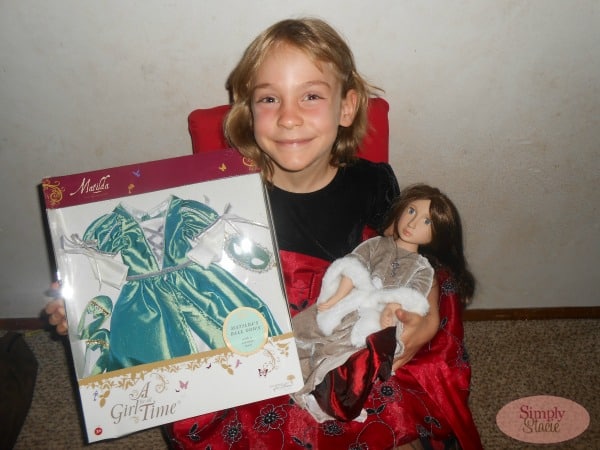 Matilda's Masked Ball Gown ($29.99) is absolutely stunning and includes an authentic historically accurate gown (top and skirt) made with taffeta silk, a cream kirtle skirt along with dancing shoes and silver-trimmed mask. The sea-green color is gorgeous as it shimmers in the light and the attention to detail on the dress including lilac velvet ribbons and pearl beaded trim is exceptional. The coordinating dancing shoes and mask completes the outfit and the girls are ready for the big ball!
I appreciate that the A Girl for All Time collection includes two dolls, Matilda and Amelia and introduces young girls to a fictional story that includes lots of historical details. To learn the story of Matilda, girls ages 9 and up can enjoy reading Matilda's Secret Novel ($9.99) which transports readers to the world of the Tudors during the reign of Henry VIII.
Another great gift idea is Matilda's Keepsakes and Secrets book ($18.99) which includes historically themed activities and projects such as recipes, quizzes, fashion themed projects and even customizable pages so girls can personalize it themselves. I really like the nice quality of this book and appreciate that the spiral themed hardcover activity book is interactive so it is sure to be a hit with young girls.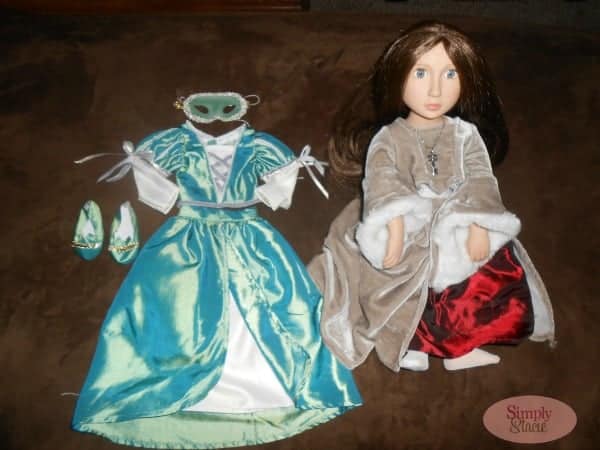 You can learn all about "Matilda" and the A Girl for All Time collection by reading my review and I highly recommend visiting the A Girl for All Time website so you can learn even more about Matilda, Amelia and all of the great books and accessories available. This doll brand is one of our favorites because of the commitment to high quality and the exciting historical content which is very appealing to girls of all ages.