Book Review | The Wishing Hill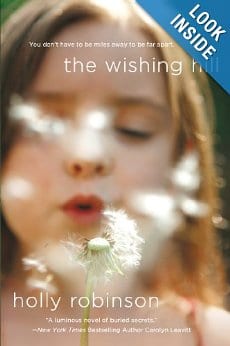 *I received a copy of this book for review, but was not compensated financially in any way. The opinions expressed are my own and are based solely on my experiences while reading this book.*
Title: The Wishing Hill: A Novel
Author: Holly Robinson
My Review:
The Wishing Hill showed up on my doorstep and I knew nothing about it. I hardly ever get the chance to pick up a book to read while reading the back synopsis for the first time just moments before I turn to the first page. I will admit that I do judge a book by it's cover. Having an ugly cover doesn't prevent me from reading the book, but it does mean I'll be starting it with low expectations. Thankfully, I loved the cover of The Wishing Hill and when combined with the synopsis, I was in a great mood and ready to have my socks knocked off. It didn't disappoint.
The pacing is absolutely fabulous. The reader is immediately introduced to Juliet and the problems she's facing when she suddenly gets more piled on top of her with her brother summoning her home to help take care of their mother. The reader doesn't know exactly why she has a tense relationship with her mother, but the distress she feels at the thought of going home is palpable. I spent the whole half of the book loving the little nuggets of clues that the Robinson sprinkles throughout the book. I had my own ideas as to what all the secrets were, but I didn't guess all of them.
There's something very powerful about a book that makes you champion a character, cheering them on when they make a decision you like and screaming at the pages when they mess up or miss an opportunity to reach out. I found myself championing each character at one point or another, even Desiree once, though I will admit it was a bit reluctantly. She drove me nuts most of the time, but in retrospect it made Juliet who she was, which is a pretty awesome person.
I hated the ending, but only in that it meant the book was over. Selfishly, I wanted more. I wasn't ready to leave Juliet's world. To me, that is the biggest compliment an author can ever receive. If there is ever a sequel, I will be the first in line to dive back in with these characters that have touched my heart.