The Snugg Google Nexus 7 Case & Stand Review
I was not financially compensated for this post. I received a sample of the product for review purposes. The opinions are my own, based on my personal experience with the product.
A few months ago I got my very first Google Nexus 7 Tablet. It was my first time ever using an Android product and I'm having lots of fun with it! I knew I wanted a case for it not only for it's protection, but also so that it would be safe to bring with me when I'm traveling. I tried multiple stores in our area and could not find a case that was made just for the Google Nexus 7! I was told it was a "weird size" tablet and the stores didn't carry them. Thankfully, I received an email from The Snugg at the perfect time. I looked at their site and saw that they carried cases for Google Nexus 7 tablets. They were exactly what I was looking for!
The Snugg sent me a Stylish Google Nexus 7 Case & Stand in Black Leather. When it first arrived, I wanted to make sure it would fit properly. It did. Actually it was a perfect fit. My tablet was easy to insert in the case and felt secure. I feel comfortable bringing it with me when I go out because I know it's safe and secure. 
I also liked that it has cutouts so you can easily charge the tablet, turn it on, use the headphones, etc. while it's still in the case. It's very convenient because I'd imagine it would be annoying to have to keep taking it out of the case to use it! The Snugg knows what users want and need!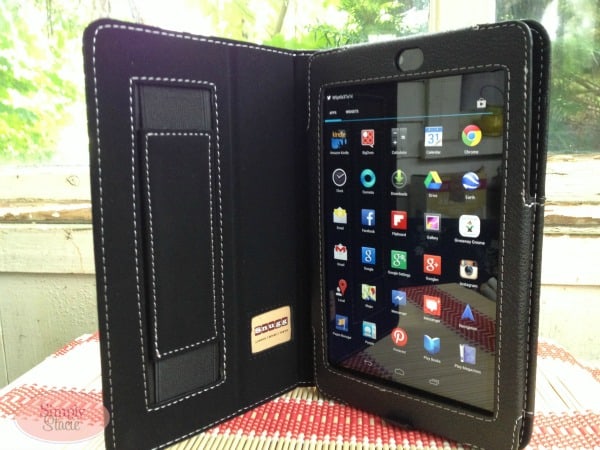 You can also use the case in two positions. You can hold it like you would a book that you are reading or you can stand it up if you wanted to watch a movie.
What is really neat is the automatic sleep/wake function. When you close the cover, the tablet goes into sleep mode. When you open it, the screen wakes up. This will help to keep my battery charged longer if I forget to shut it down. 
It's made of PU Leather and is very sleek and stylish. It does not look cheap at all and it's actually a really affordable price! It's only $24.99 right now at The Snugg. It also comes in other colours like blue, pink, white, red, etc.
The inside is a softer, velvety feeling material to prevent scratches on your tablet and it also can be wiped cleaned. There's a stylus loop as well to hold your stylus pen. I don't use one (or own one). I think my fingers work just fine on the Google Nexus 7.
If you are going to buy a case for your Google Nexus 7, buy this case from The Snugg. It's stylish, comfortable, sturdy and affordable. It's also made just for the Google Nexus 7 Tablet so you will know it has everything you need.
Check out The Snugg if you are in the market for other tablet cases. They have iPad cases, iPhone cases, Kindle cases and lots more! Seriously this is the place to go for cases for your mobile devices. I can see why celebrities like Justin Timberlake and Hugh Jackman use The Snugg!
Connect with The Snugg on Facebook, Twitter, Google+, Pinterest and YouTube.