SurfSkimmer Review
Disclosure: I was not financially compensated for this post. I received a sample of the product for review purposes. The opinions are my own, based on my personal experience with the product.
Hang 10 little dudes and dudettes! D6 Sports is very excited to launch the new SurfSkimmer which is a revolutionary skimboard designed for beginners and little kids. My children are ages 5, 6 and 8 and love spending fun filled days at our beautiful Florida beaches. They have enjoyed splashing in the surf as they gaze longingly at the surfers and skimboarders. Now, they can start learning how to skimboard by using the SurfSkimmer!
What makes this a great entry level skimboarding experience for the child is that it has a stable handle, gripper technology and a sleek design so the board glides over the white wash water. My kids had so much fun practicing their new skills and they seemed to get better and better as they enjoyed using their SurfSkimmer during our day at New Smyrna Beach. Lots of other beach goers came over to check out their board and they beamed with pride when they got a big "thumbs up" from the surfers. When they did their first 360 degree turn they were so excited and got lots of applause from their family and new friends.
See it in action:
As a Mom, I love that I can actually open my eyes and watch them practice without being overly fearful as this is a much safer way to learn how to skimboard as opposed to past attempts on other brand boards. When they become more experienced, I can even remove the handle from their skimboard so they can use it in the more traditional manner and practice more advanced skills so this is a board that is sure to get lots of use.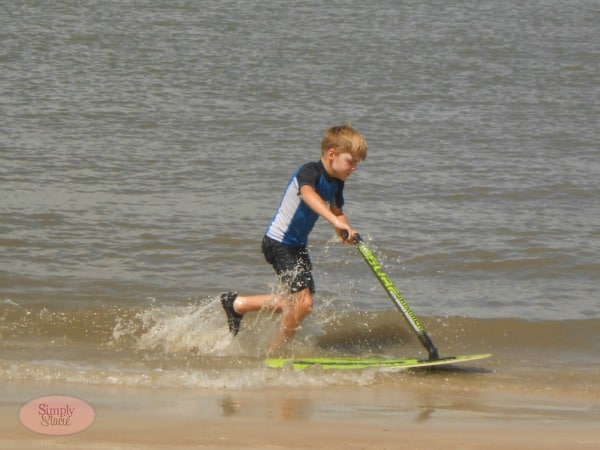 The SurfSkimmer supports up to 150 pounds and is available in two colors, blue and green. My kids and I are very impressed with the design and durability of this innovative product and look forward to many more fun-filled beach days with their SurfSkimmer.
You are invited to visit D6 to learn more and purchase your SurfSkimmer for only $69.95 with free shipping!