Eat Your Best with Smart Ones
Disclosure: I was compensated for this post. I also received a sample of the product for review purposes. The opinions are my own, based on my personal experience with the product.
Over the years I've had many friends successfully lose weight following the Weight Watchers plan of counting points. I've often thought of trying it myself to see how I would like it, but just haven't yet. I do watch what I eat and am careful not to overindulge. I've lost over 60 lbs since 2012 and according to my doctor, I'm at a healthy weight for my height. 
I've noticed Smart Ones frozen entrees in my grocer's freezer section before, but hadn't tried them until just recently. I don't eat frozen dinners as often as I used to, but I like to have a few around the house for a quick meal when time is short. When I was working my 9-5 job, I used to bring a frozen entree to work for lunch every day. These would have been perfect! Now that I've tried them, I will definitely be picking up more the next time I'm out shopping!
Smart Ones is part of the Weight Watchers brand and are great for people who are watching their weight. They are portion controlled and you know exactly how many calories, grams of fat, fibre and protein you are getting for each meal. If you visit the Eat Your Best website you can see how many points each is worth too if you are tracking your eating that way.
I picked up two Smart Ones frozen entrees for John and I. John ate the Gourmet Homestyle Beef Pot Roast and I tried the Signature Spicy Szechuan Style Vegetables & Chicken.
The Signature Spicy Szechuan Style Vegetables & Chicken has 240 calories, 5 g of fat, 4 g of fibre and 11 g of protein. It contains a mix of veggies including carrots, zucchini, bean sprouts, red pepper with chunks of glazed chicken in hoison sauce. Its served on a bed of Lo Mein pasta.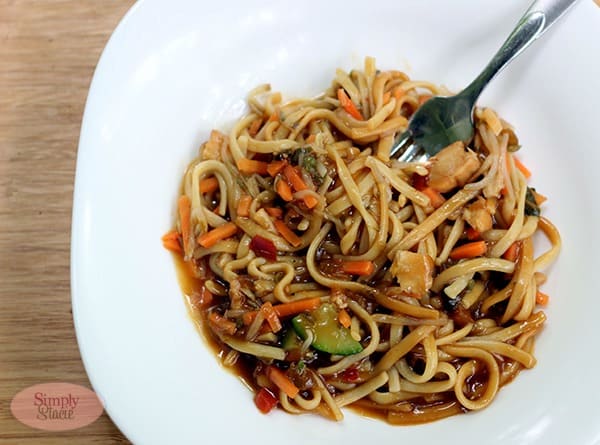 It took about 4 minutes to cook completely in the microwave. After letting it cool a minute or so, I couldn't wait to dig in. 
It was spicy, but not overpowering. I noticed the spicy flavour hits after you have swallowed! I also found it the perfect size for me and my hunger was abated after eating.
John's lunch was the Gourmet Homestyle Beef Pot Roast which has 180 calories, 4.5 g of fat, 4 g of fibre and 17 g of protein. It had cubes of beef pot roasted covered in gravy with carrots, onions, potatoes and green beans. He's a meat and potatoes kind of guy so I was hoping he would like it. I didn't tell him it was Weight Watchers though!
It was ready after 5 minutes in the microwave and I snuck a quick bite before I served it to John. It was yummy! I love comfort food, but don't often eat it anymore!
John also enjoyed it and said he would eat it again. He's fairly picky and doesn't always like trying new things so I was pleased to see he cleaned his plate. 
When I was shopping at the grocery store, I noticed the large selection of Smart Ones products. In fact, it was a tough decision just settling on these two since there were many that appealed to me. Some of their other varieties include Chicken Parmesan, Salisbury Steak, Slow Roasted Turkey Breast, Shrimp Marinara, Broccoli and Cheddar Roasted Potatoes and many more. Visit the Smart Ones website to see the full line up of products.
You can also connect with Smart Ones on Facebook via the Eat Your Best Canada Facebook page.