Rubbermaid All Access Organizers Storage Containers Review
Disclosure: I was not financially compensated for this post. I received a sample of the product for review purposes. The opinions are my own, based on my personal experience with the product.
I work from home and also homeschool my three children so having a system in place for all of my books, files and papers is very important in order to maintain an organized home. I have used a wide variety of organizational systems and products over the years. By far, my favorite system for organizing my home, work and school area are Rubbermaid All Access™ Organizers Storage Containers.
What makes Rubbermaid All Access™ Organizers so exceptional is that the ways in which it can be used is virtually limitless. I love the functionality of a traditional storage bin and have lots of those to store our homeschool supplies however it can get very confusing trying to figure out what is in bin. When stacked on top of each other it can be almost impossible and very frustrating to try and get what I need out of those bottoms bins too. The Rubbermaid All Access™ Organizers have solved this dilemma because the containers have a clear drop-down door so that I can easily open it up to get what I need, even when stacked!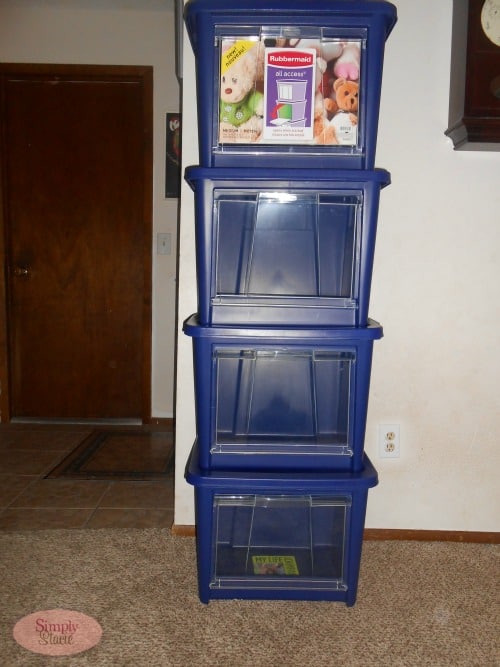 The All Access™ Containers are durable, spacious to hold a lot of items and I love the stacking feature so it is easier than ever to securely stack the containers on top of each other. With the clear drop-down door, I can look inside to see what I need and then access it. Since we have a smaller sized house it is so important that any storage system that I use save on space and this does that brilliantly!
I love the Rubbermaid All Access™ Organizers which I am currently using to organize my children's homeschool supplies by grade level. Each child will have their own bin and I have my own teacher's resources bin to make starting school each morning easier than ever. I plan to stock up on these organizer containers for so many uses i.e. to organize their toys, in my home office, in our dry goods pantry and to store our arts and crafts projects.
You are invited to visit Rubbermaid to learn more about the innovative new Rubbermaid All Access™ Organizers system. It is available in small, medium and large and pricing ranges from $25.98-$33.98 for a set up two containers.
Canadian residents can also head over to Facebook to enter the Rubbermaid All Access Sweepstakes for a chance to win some great prizes and a chance to have either Clare Kumar or Ramsin Khachi help to organize your home.