PetSmart Marvel & DC Comics Pet Collection Review
Disclosure: I was not financially compensated for this post. I received a sample of the product for review purposes. The opinions are my own, based on my personal experience with the product.
"It's a bird, it's a plane…..it's SUPER JACK!" Our boxer, Jack is soaring in his stylish new superhero costume with the PetSmart Marvel & DC Comics Pet Collection. This exclusive pet line features apparel and plush toys that are sure to be a hit with your favorite canines.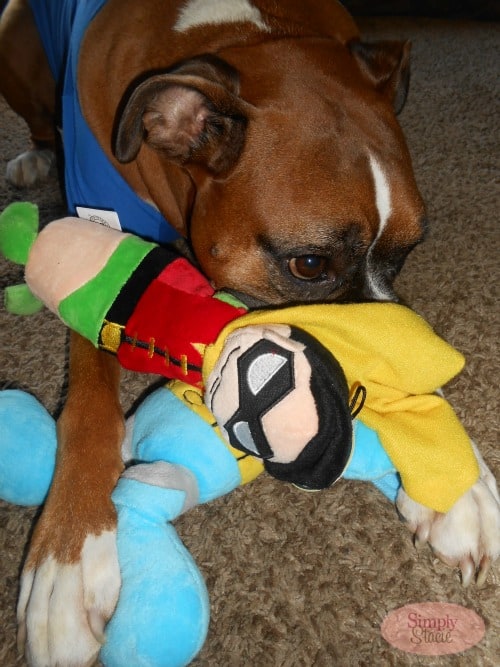 Featuring favorite superheroes such as Superman, Batman, Spiderman, Iron Man and Wonder Woman it includes tees, plush toys and more. My kids really get a kick out of seeing their beloved Jack dressed up because he is so adorable when wearing apparel. Since they love Superman and Spiderman they thought it would be a blast to dress Jack up in these cute apparel tees. Because he has a very large chest it can be hard to find apparel that fits him comfortably. I chose the XL tee and it did fit his proportions nicely as he "modeled" the Superman and Spiderman shirts for the family and he was a big hit.
For the lady dogs, I think the Top Paw™ Supergirl Dress (on sale for only $10) is so stylish and cute! We also think that the Top Paw™ Bandanas (on sale for $7) are also fun for summer. Playful pups are sure to enjoy the toy collection including Jack's favorite new toys, the Top Paw™ DC Comic Plush Batman ($4.89-$9.09) and the Top Paw™ DC Comic Robin Bottle Cruncher ($6.99). Jack loves to squeak, crunch, toss and even nap with his favorite comic character plush toys.
Kick off the summer by getting your canine friend some fun new toys and apparel from the Marvel & DC Comics Pet Collection available exclusively at PetSmart! You can also enter PetSmart's superhero contest on Facebook for your chance to be featured in your own DC comic! I love that with each entry, a $5 donation will go to PetSmart Charities to save homeless pets.