Little Passports Review
Disclosure: I was not financially compensated for this post. I received a sample of the product for review purposes. The opinions are my own, based on my personal experience with the product.
The kids and I are headed for a trip around the world, all without leaving our living room! Little Passports is a fun, creative way for children to learn about the USA or the countries around the world with a monthly subscription service.
Little Passports is a "Global Adventure" that features characters Sam and Sofia as they travel around the world. Every month, children will receive a package addressed to them from Sam and Sofia with contents featuring geography, history and cultures of a specific country (or two states if you select the USA subscription).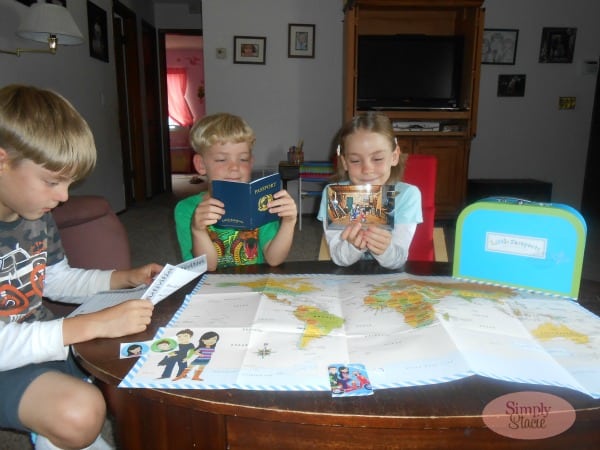 We chose the Little Passport's World Edition which is recommended for ages 5 to 10 and my children were very excited to start exploring the globe. I home school my children so this is the perfect way to enhance our social studies and geography class. Each month when their package arrives, we bring out the globe and find the country being explored. There are 24 total adventures available for the World Edition and each package includes a variety of souvenirs, stickers, photos and access to online games and activities in the "Boarding Zone".
For the first month, the kids received the Explorer Kit which includes everything they need for future adventures such as a fun travel suitcase which can be used to store their things, a world wall map, travel passport, fun stickers, activity sheet and boarding pass access.
The next month, they were so excited to get a letter and package from Sam and Sophia as they explored Brazil. My eight year old son got so excited to see the beautiful quartz rock included because he is studying rocks and minerals. The attention to detail is very nice and I love to see my children excited to learn about each new county.
We are starting American History in the fall so I will be sure to sign up for the USA edition!
Little Passports is the perfect summer educational activity and you can select from a variety of memberships as well as the World Edition or USA edition. A three month subscription to the World Edition includes an Explorer Kit and 2 adventure fill countries for only $41.85 which breaks down to a very reasonable $13.95 per month!
You are invited to visit Little Passports to learn more about various subscription options and sign up for your child's adventure around the globe!