Kiwi Crate Review
I was not financially compensated for this post. I received a sample of the product for review purposes. The opinions are my own, based on my personal experience with the product.
My kids love arts and crafts. We recently wrapped up our homeschool for summer break and within days my children were begging to do more arts and crafts projects.
Kiwi Crate is a wonderful, award-winning resource for children ages 3-7. It is a subscription based service however you can also purchase individual crates. Each Kiwi Crate will include everything your child will need to create unique craft projects and even experiments. This summer, Kiwi Crate has a great option featuring the Summer Discovery Packs. Nature Explorers, Wonders of Water and Fun With Flight are the summer offerings that will keep children learning as their curiosity soars with each fun Kiwi Crate. One crate will be delivered each month and the set of three Kiwi Crates in this Summer Discover series is only $59 with free shipping!
My children loved the projects in the Fun With Flight crate which includes projects such as the "My Rad Rockets" and "My Flying Kites". The instructions are easy to follow and my son had no problems completing "My Rad Rockets" independently. It was challenging without being overwhelming and he was so proud when it was built.
They also enjoyed making the "My Flying Kites" project which is the perfect way to spend a summer afternoon. My younger children helped with this project and I loved observing them working together cooperatively and there was lots of smiles and laughter along the way as the worked on their kite.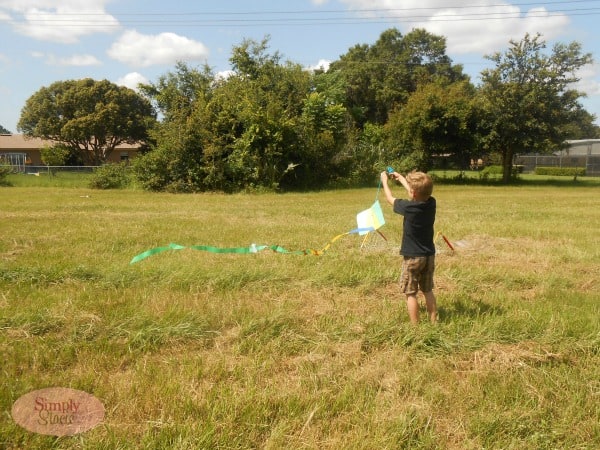 In addition to the two main projects there were also instructions and supplies for three additional activities including a Straw Glider, Paper Helicopter and a Flipping Fish. My children spent well over 3 hours total on all of the projects in this one kit alone.
My family loves Kiwi Crate and I find it to be a great value for the price. Kiwi Crates are individually priced at $19.95 with an annual subscription available for $220 (shipping is free). Since I have three eager children, I especially like that I can choose the Add-On option for only $7.95 which is designed specifically for those with multiple children and everyone will have their own materials needed for the projects.
You are invited to visit Kiwi Crate to learn more about all of the options available and start the subscription service that best fits our family. I am very impressed with the summer themed kit-"Fun with Flight" that was filled with fun science oriented projects and activities my children enjoyed for hours.