Delivery Man Trailer Debut!
If you read blogs, today is the day you'll be hearing everywhere about the new trailer for the upcoming Vince Vaughn movie, Delivery Man. My blog is one of 533 blogs that are sharing the trailer! 
You may be wondering why a random number like 533? It all has to do with the storyline of Delivery Man. You see in the movie, Vince Vaughn discovers he's fathered 533 children through anonymous donations to a fertility clinic 20 years ago! As you can imagine that kind of news would come as a shock to anyone! He faces a dilemma of whether or not to come forward when 142 of the children want to meet their biological father.
Watching the trailer made me smile. It looks like a funny, but heartwarming film. David (Vince Vaughn) was looking for his purpose in life and he may have found it after getting that shocking news! He wonders how that is even possible! Well, it is and it happened…to him!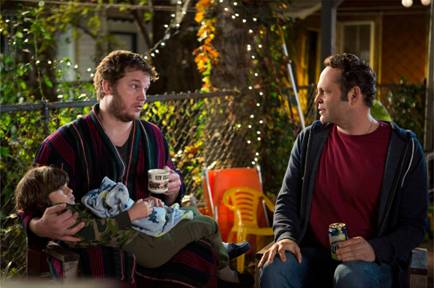 Check out the trailer and let me know what you think!
It's really hard to define a family. I think that love makes a family. In my life, my family has been a constant presence. Sure, we've had our differences, but I know that they love and support me no matter what. My parents have always been there for me and I miss them dearly. I don't see them often because they live in Ontario and I'm in Nova Scotia, but I talk to my mom on the phone just about every day. Now that she's on Facebook, she can see what I've been up to and vice versa. I love how social media brings families across the distances closer together.
How would you define a family?
"Like" DELIVERY MAN on Facebook
Follow DELIVERY MAN on Twitter
Follow DELIVERY MAN on Pinterest
Follow DELIVERY MAN on Instagram: DeliveryManMovie
DELIVERY MAN releases in theaters on November 22nd!