Canyon Beachwear Review
Disclosure: I was not financially compensated for this post. I received a sample of the product for review purposes. The opinions are my own, based on my personal experience with the product.
Canyon Beachwear has a wide selection of beautiful swimsuits for all figures and sizes as well as cover-ups and accessories. This summer we spent much of our time at the pool or the beach so a good swimsuit and cover-up is a must-have for me in order to feel pretty and confident. I don't mind investing a bit more in a good quality swimsuit that is going to be flattering and last for the entire season.
I like that they also provide specialty sizes for D/DD/E/F and G cup sizes to give the best fit possible for fuller chested gals. There are many well-known designers and brand name swimsuits and cover-ups including Lea Gottlieb, Natori, Voda Swim, Vitamin A Gold and many more. From seperates, bikinis and one pieces swimwear you are sure to find the perfect suit to fit your personal style and taste.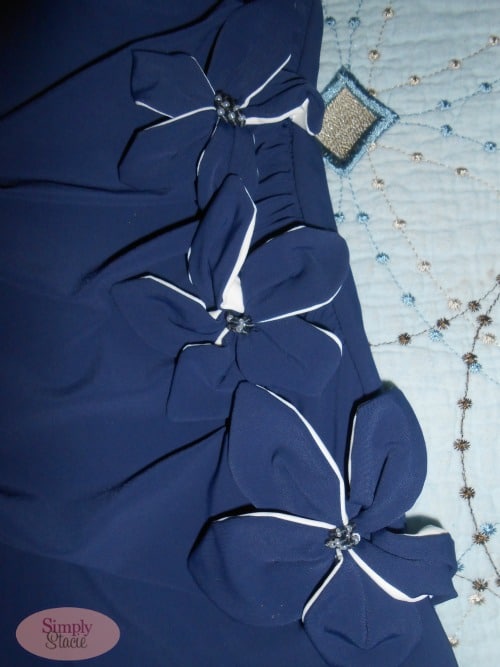 I selected the Lea Gottlieb Orchid Solid Side Detail One Piece Swimsuit ($126) in a beautiful navy color. I was attracted to this particular suit because it is a shaping suit and after having three children, I can use all the "help" that I can get. The attention to detail in this suit is exceptional as the white/navy orchid flowers on the side with gathered surplice make it extremely figure flattering to the body. It fits very comfortably and I love how the shaping material gives me an extra boost of confidence as everything looks more toned especially my abdomen and waist. My favorite feature as a taller woman is the adjustable straps. I can adjust it so that it fits perfectly unlike other suits that have too small straps that dig into my shoulders. It provides nice coverage in the back and a pretty cut around the top of thigh. I hand wash this suit after wearing and let it air dry so I am sure it will last for a long time of use which I expect it to get since it is my favorite swimsuit.
A cover-up is another must-have for me and I wanted to share with you a few of the pieces in the collection that I thought were gorgeous i.e. Melissa Odabash Laura Long-Sleeve Drawstring Neck Short Cover-Up and the Letarte Sheer Cover-Up.
Canyon Beachwear is your one stop shop for swimwear and accessories…..perfect for summer holidays, cruising or relaxing days by the pool or at the beach. You are invited to visit Canyon Beachwear to browse the entire collection……which is your favorite?