Barlean's Wild & Whole Krill Oil Review
I was not financially compensated for this post. I received a sample of the product for review purposes. The opinions are my own, based on my personal experience with the product.
I began supplementing my family's diet with Omega Oil when my daughter was a baby and had severe respiratory issues. Her specialist and pediatrician recommended we give Hannah a high quality omega oil supplement daily and said that these essential fats would beneficial for the entire family. After much research, I quickly discovered that not all fish oil and omega oil supplements are created equal and it was quite a project to find a brand that I could feel confident about giving to my family.
Barlean's Organic Oils has committed to providing the freshest, highest quality essential flax oils and fish oils. I recently became aware that Barlean's newest offering is a Wild & Whole Krill Oil supplement created for maximum absorption. I have been reading a lot about the potential benefits of using Krill Oil so I was very excited to try this product. I was very interested to learn that Krill Oil naturally has an antioxidant known as Astaxanthin and it is full of bioavailable phospholipid Omega-3 fatty acids.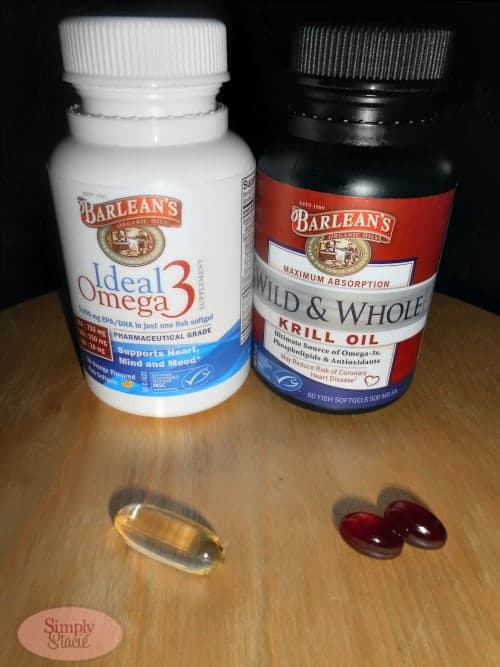 Barlean's Wild & Whole Krill Oil (SRP $39.95/60 count capsules) is harvested sustainably from Antarctica and is even certified by the Marine Stewardship Council standards. It is 100% unfiltered and unrefined for exceptional purity which appeals to me as a mother. These fish oil softgel capsules are easy to swallow and my family loves that there is no dreaded fishy aftertaste or indigestion. My husband and I take two softgel capsules daily and my children take one capsule every morning after breakfast.
My family has used this product for 30 days and I am very pleased it. I have used other excellent products from Barlean's Organic Oils in the past with one of our personal favorites being the Omega Swirl Fish Oil (SRP $16.27) which provides 2,000 mg of Omega-3s per serving. I looked forward to trying one of the newest flavors of the Omega Swirl i.e. Key Lime. Putting the touted "Smoothie Taste and Texture" to the taste test were my five, six and eight year old children who gave this product and natural key lime flavor a big thumbs up! This is an excellent product for people who do not like to swallow pills and it is gluten free.
We will also be trying the Ideal Omega 3 ($21.95/30 count) orange flavored softgels which has 750 mg of EPA, 250 mg of DHA and 30 mg of DPA.
You are invited to visit Barlean's Organic Oils to browse the entire selection of high quality fish and flax oils. I believe that Omega-3's are an essential part of my family's overall health and feel confident that I am getting the purest, freshest products when I purchase from Barlean's Organic Oils!