Ballet Beautiful Total Body Workout DVD Review
I was not financially compensated for this post. I received a sample of the product for review purposes. The opinions are my own, based on my personal experience with the product.
Ballet Beautiful® is a 60 minute total body workout presented by Mary Helen Bowers, who trained actress Natalie Portman in her role in the film Black Swan. The DVD is broken down into the following six sections:
Bridge Series (you'll tone and strengthen your leg muscles, butt, thighs, hips, and abs)
Abs (a workout specifically designed to work out only your abs, with an emphasis on helping you get a leaner waist)
Inner Thigh (you'll focus on strengthening and toning your inner thighs)
Outer Thigh (you'll work on your hips and thighs, bringing definition to your outer thighs)
Arms (you'll sculpt and tone your arms, shoulders, and back as well as improve your posture)
Standing (a combination of cardio and dance movements)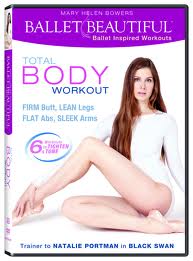 My Weight Loss Journey
During my teenage years, I never seemed to have to watch what I ate. My parents practically raised me on fast food and sit down restaurants, so I never learned any healthy eating skills. The weight creeped on slowly over the years, and I hardly seemed to notice as I had to buy larger and large pant, shirt, and dress sizes. Finally last year I decided to do something about my weight gain. Since high school, I had put on a whopping 50 lbs. and my self-esteem was getting lower and lower. Having friends who poked fun at "fat people" certainly did nothing to improve my self image. I had never thought of myself as "fat", but my doctor telling me I needed to lose weight and my husband making tactless comments years after my doctor's warning got me interested in pursuing weight loss.
In the summer of 2011, I participated in the Nutrisystem weight loss program for bloggers and was able to lose a total of 17 lbs. It wasn't easy, and by the end of my time on the program I was maintaining my weight at a total of 12 lbs. lost. Now in the year 2013, I have put back on some of that weight. My last weigh-in showed that I was only down 8 lbs. from my starting weight on the Nutrisystem program. I started panicking and knew I needed to act quickly to keep myself from gaining more. I should note that all of the weight I lost on Nutrisystem was with their food and my add-ins alone (with admittedly too many cheat days). So in an effort to lose that weight again as well as even more, I am back to monitoring everything I eat and working in exercise routines as well.
My Workout Experience
I still consider myself a beginner to working out, so I took it slow. I knew there was no way I was in shape to do everything on this DVD at one time, so I did one section of it each day to get these initial impressions.
Bridge Series This portion of the DVD is 15 minutes, and to be perfectly honest, I was ready to collapse after 5 minutes. Even though that might sound negative, it's actually a good thing; your workout should not be easy–you should feel challenged. I found it quite easy to mimic the movements of Mary Helen's hips, and a challenge to focus on my breathing while doing it. For this routine, you'll be on your mat with your knees pointed up and your heels flat–but you can also do the more advanced version with your feet at demi pointe. For each move she teaches, you'll do 3-4 repetitions and feel the burn.
Abs I just can't recommend this section for beginners. Even with the modifications she suggests, I still found it too difficult. Like with the other sections, it's constant repetition of the same movements. Thankfully, this section only lasts for 2 or 3 minutes so once I start working out more often, I may attempt this again.
Inner Thigh My legs have always been my strongest body part, so I found this section of the workout to be a bit easier. The pose I was required to be in didn't feel natural to me, and was uncomfortable for my neck. Perhaps this is an easier routine to make it through if a person is taller, but at 5'3", I felt pretty pudgy and ungraceful trying to keep up with her.
Outer Thigh This leg workout was even harder for me than the inner thigh workout. I started out feeling great about it, even with 4 sets of the same movements in a row. My legs began to cramp up, so I did have to take breaks in between to let the burn fade out. My 5-year-old joined in on this section of the workout with me, and began saying "ow" every couple minutes. Guess we both need to spend some time with this DVD!
Arms If you think you need weights to get in a good arm workout, think again. You'll start out having to lift your entire body weight with your arms, but there are some modifications you can do if you are a beginner. From there, you'll move on to stretching your arms and moving them in circles. It looks easy, but I definitely as if I were lifting weights.
Standing This section of the DVD provides a little bit of cardio mixed in with some easier ballet movements. A chair or stool may be necessary in order to help you keep your balance. It's short and sweet, but I needed patience with some of the steps.
Final Thoughts
I really want to be able to properly use this workout, and keep up with each of the steps. As I am using this DVD more and more, I am coming to accept that I will need to take breaks (and Mary Helen suggests this), pause the DVD, and maybe even use the custom workout section to shorten this 60-minute DVD until I build up my strength and am able to do it all at once.