Werther's Original Sugar Free Caramels Review
Disclosure: I was not financially compensated for this post. I received a sample of the product for review purposes. The opinions are my own, based on my personal experience with the product.
One of my fondest childhood memories was visiting with my grandparents. They always had a candy jar stocked with delicious Werther's Original Caramels and allowed me to satisfy my sweet tooth with these delicious candy treats.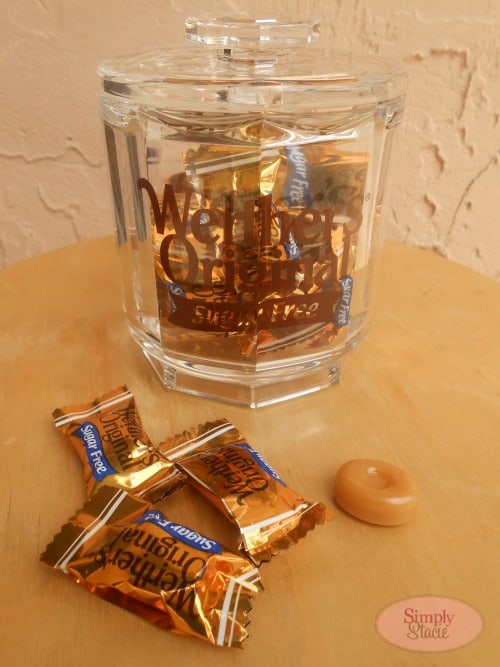 Celebrating National Candy Month, Werther's Original is proud to introduce their sugar free candy line. I will admit that I am not normally a fan of sugar free candy therefore I was a tad hesitant to try these but my love for Werther's caramels led me to give it a try. I am so glad that I did because to be honest, I would never have known these were sugar free candies if I hadn't been told before trying it. In fact, the new Werther's Original Sugar Free Candies are absolutely delicious and really does satisfy me when I want something sweet.
If you are like me and watching your waist line or don't eat sugar for dietary or medical needs then I highly recommending taking the taste test. I am confident that you won't be disappointed. The creamy Classic Caramel flavor has only 8 calories and 3 carbohydrates per candy. Since it is a hard candy, it is long lasting and therefore one (okay, perhaps two) curbs my cravings. There is no artificial aftertaste as the candies are made with the sweeteners Acesulfame-K and the sugar alternative Isomalt.
In addition to my favorite, the Werther's Original Sugar Free Caramel, I enjoyed three additional sugar free flavors including Caramel Cinnamon which tastes like a cinnamon bun, the Caramel Coffee which goes great with an afternoon brew and my children's favorite, the Caramel Apple.
You are invited to visit the Werther's Original Caramel website to visit the Caramel Shoppe and learn more about the sugar free caramels. I also enjoyed checking out some of the delicious free recipes and plan to make the Caramel Popcorn Clusters for our weekly movie night.
You can purchase the Werther's Original Sugar Free candies exclusively at Walmart stores.