Truth Naturals Review
Disclosure: I was not financially compensated for this post. I received a sample of the product for review purposes. The opinions are my own, based on my personal experience with the product.
I live in Florida but try to avoid too much sun exposure because my Dad passed away from skin cancer last year. I am very fair skinned and have had my own skin cancer scare a few years ago. Sunless tanners seemed like a great option but I haven't liked how the color often looked unnaturally orange or the fact that many sunless tanners are filled with potentially harmful chemicals. Therefore, I was very excited to discover Truth Tans Sunless Tanning Lotion ($28) by Truth Naturals. This product is chemical free and using organic, plant derived ingredients for a natural looking tan…..finally a sunless tanning product I could feel good about using!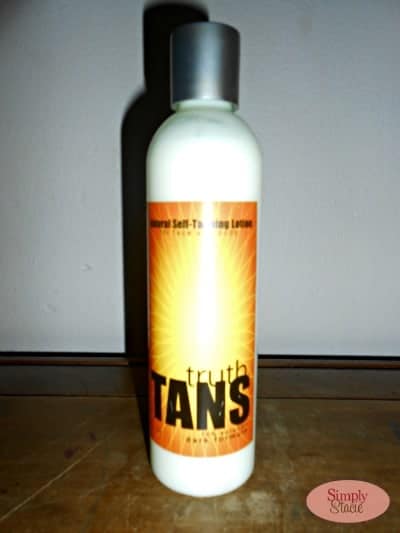 The first thing that I noticed before using this product is that it smells amazingly like fresh coconuts so even if you aren't heading to a tropical beach you will feel like it. I exfoliated the areas that I was going to apply the tanner and made sure all oils were removed from the skin (don't forget to wash hands thoroughly after applying so your palms don't tan). The lotion is rich and creamy and spreads easily on the skin absorbing very quickly with no icky residue. I used the Truth Tans 10% solution which is formulated for a darker tan. I especially like the fact that my skin was so moisturized while using this product as it is full of aloe, coconut oil, gardenia oil and more skin nourishing ingredients….great for my dry skin.
Within a few hours I noticed that my skin appeared to be developing a subtle tan and by evening it was a really nice looking bronze….even my husband complimented me. For those with fair (like me) or very fair complexions you also have the option of the 5% solution but I did just fine with the darker formula.
Truth Naturals has a wide selection of natural products for the face, hair and body including mineral makeup, cosmetic brushes, body scrubs, shampoo, eye creams and much more. There is even a product line for children that I would love to try, especially the No Buggs Bug Spray ($11).
You are invited to visit Truth Naturals to purchase the Truth Tans Sunless Tanning Lotion and browse the entire selection of all natural, chemical-free products for skin and hair.
Exclusive Offer: Simply Stacie readers can receive 10% off sitewide at Truth Naturals using the code SUNLESS10 at checkout!