Toe Juice Review
Disclosure: I was not financially compensated for this post. I received a sample of the product for review purposes. The opinions are my own, based on my personal experience with the product.
My six year old daughter and I both suffer from eczema and very dry skin. Therefore, we were both excited to try Toe Juice which was developed specifically for people with eczema, acne, athletes foot, psoriasis, dry cracked heels and feet and other irritating skin conditions.
Toe Juice is unique from other skin care products that we have used in the past because it delivers natural plant extracts in a liquid alcohol base as opposed to a cream or lotion. We love that it is fast drying and it absorbs almost instantly so it is not greasy or sticky. I appreciate that it is all natural so there is no worry about exposing my family to potentially harmful chemicals or artificial ingredients.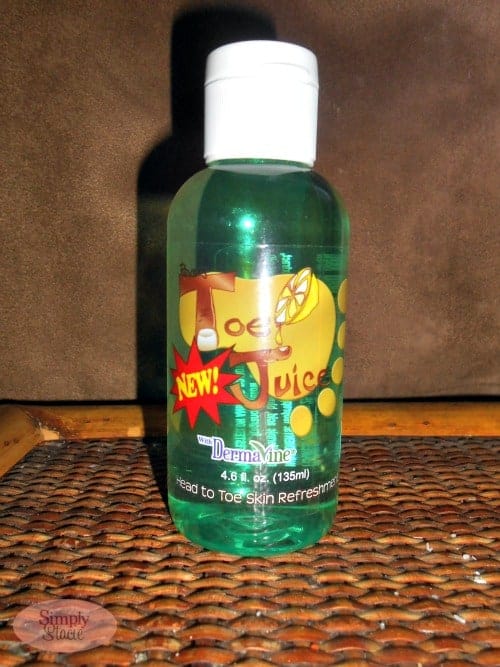 Every day, I apply a few drops of the Toe Juice to the affected areas. It has a light scent that is not overpowering and it actually very refreshing. In addition to our dry, eczema prone skin I have used this product with good results on my children's bug bites and they will actually ask for this product specifically. I have tried it for myself and it almost instantly takes the sting or itch away from the affected area. We are traveling to the mountains on summer vacation and I will be packing this in our backpack when hiking in the woods.
We live in Florida so in the summer we practically live in sandals which when wet can cause us to have horribly cracked heels. I have learned that this product can help this condition too so I plan to use this on our heels in the evening to try and prevent this from happening again.
Toe Juice was developed in the 1970's by a father looking for a solution to his child's skin condition. It has withstood the test of time because it works. I am really relieved that I have found a product that actually gives my poor daughter long lasting relief from dry, irritated eczema prone skin.
You are invited to visit Toe Juice to learn more about how this product may help your skin care needs and to purchase product. There are several sized bottles to choose from including a 4.6 ounce bottle for $15.99. I recommend the Toe Juice Family Size Pack which is currently on special for $23.96 and includes two 4.6 ounce bottles!
Exclusive offer for Simply Stacie readers: You can save up to 35% off the regular price at Toe Juice by applying a 20% off coupon to both regular and sale items! Use the code "extra20" at checkout and if you order the Family Pack or the Signature Pack then the shipping is FREE!