Book Review | The Well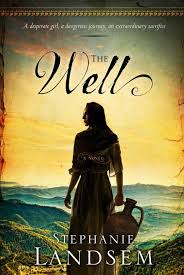 *I received a copy of this book for review, but was not compensated financially in any way. The opinions expressed are my own and are based solely on my experiences while reading this book.*
Title: The Well: A Novel
Author: Stephanie Landsem
My Review:
I am a fan of Christian historical fiction and The Well: A Novel by Stephanie Landsem is at the top of my list of best books of 2013! I was transported back into time to the Samaritan Village of Sychar where the women of the village meet at the well as a place to interact with one another while gathering water at this place of blessing. The main character, a young girl named Mara who is shunned by the other women because her mother is considered to be sinful. Mara is desperate to prevent becoming exiled or starving because the risk is ever present for her and her mother.
Two men arrive unexpectedly in Sychar, Shem and Jesus. Her mother, Nava is captivated by the teachings of Jesus but the novel takes a sad turn when she is stoned by the villagers who refused to forgive her sins. Mara and Shem will forge a bond together as they attempt to save Nava's life as she is dying. As they head out on a perilous journey to find Jesus and have him heal Nava, Shem and Mara will find love and unbearable heartbreak.
This novel is rich with historical content and I appreciate the way the author is able to help me envision the lives of the biblical "women at the well" which is a story I have known since I was a child. I could feel Mara's pain as she struggled to persevere against seemingly insurmountable odds. Her strength is refreshing and I was rooting for her to have a "happy ending"……would she or would she sacrifice everything? This is a wonderful adventure story with interesting characters and a great plot.
I look forward to heading out on new adventures by reading future novels by this very talented author.