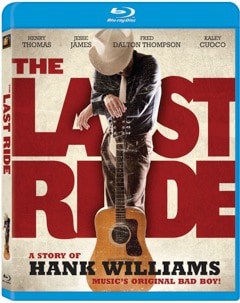 Disclosure: I was not financially compensated for this post. I received a sample of the product for review purposes. The opinions are my own, based on my personal experience with the product.
Title: The Last Ride [Blu-ray]
About the Movie:
Based on the controversial life story of singer-songwriter, Hank Williams, The Last Ride tells the powerful tale of country music's original bad boy. The man, the myth and the music comes together when Williams travels from Alabama to a series of New Year's shows in West Virginia and Ohio. This remarkable journey leads straight into the heart and soul of the legendary performer…as he takes one last shot at redemption. Featuring all-new versions of Hank Williams' greatest songs, this emotional tale of hope and truth is one you'll never forget.
My Review:
My knowledge of the history of country music is very limited. I'm learning more now that I'm with John who is a crazy about country music and always has our local country station blaring on the radio. I had heard the name Hank Williams before and knew he was a country singer, but that's about it. I didn't even know what songs he sang or if he was dead or alive. Watching The Last Ride gave me a new appreciation for this country legend as well as an appreciation for that genre of music as a whole.
The movie is based on a true story of the last days of Hank Williams. He sets out in an ice storm to drive a few states over for some New Year's concerts and hires a young mechanic named Silas to be his chauffeur. Silas isn't into music at all and does not recognize Hank or even know of his music. Hank Williams introduces himself as Mr. Wells/Luke so throughout the movie Silas doesn't realize who his passenger is beyond that he is in the music business.
Hank Williams looks to be physically sick. I think they mentioned he had Spina Bifida and he walked very slowly like he was in pain. Henry Thomas did an amazing job portraying Hank Williams and captured the look of a person in agonizing chronic pain. I recognized many of his facial expressions as my own as I suffer from daily pain too.
Hank's lifestyle of drinking and drugs has taken a toll on his body. He tells Silas that he is only 29 years old and even I was shocked. He looked SO MUCH older. I thought there's no way he was 29?! So I googled and found that yes indeed he was 29 when he died.
The road trip Silas and Hank take has a few bumps and unexpected encounters. They are pulled over for driving recklessly and have to appear before a judge. Then there's the bar fight where Hank was beaten pretty badly for dancing with another man's ex-wife. All the while, the viewer watches as a friendship blooms between these two men, who are so different, yet not that far apart in age. In life experience, though, I would say there's a big gap. 
The Last Ride touched my heart and made me feel compassion for this man who pretty much drank himself to the death. I wondered what demons he had battled to make him get to that point. I also cried at the end and I'm sure you can figure out why if you know the story of Hank Williams. The title of the movie gives away the outcome anyways and I knew what it would be even before I started the movie.
The one thing I noticed that the movie is not really about Hank Williams' music. He never plays or even sings. Now that I've watched the movie, I've been checking out some of his songs and there's many I recognize, but didn't realize they were his.
If you are looking for a Father's day gift, The Last Ride would be an excellent choice.