StriVectin-SD™ Intensive Concentrate Review
Disclosure: I was not financially compensated for this post. I received a sample of the product for review purposes. The opinions are my own, based on my personal experience with the product.
I have always known that StriVectin is a leader in the beauty industry clinically proven to help us combat stretch marks and wrinkles. However, I was pleasantly shocked to learn recently that StriVectin-SD™ Intensive Concentrate is now elevated to new levels with NIA-114 (niacin) which has a been shown in skin cancer preventative research over the past 30 years to help "activate cell turnover, repair DNA damage and strengthen the skin barrier for younger looking skin"!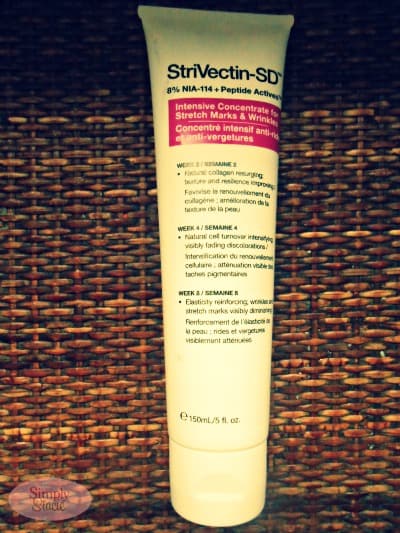 In order to promote skin cancer awareness, I have been open about my own family history of skin cancer which my Dad battled and ultimately lost in 2012 as well my personal scare with the removal of an early stage squamous cell tumor on my neck. I am a Florida native who is very fair skinned and so is my husband and children so we have to be extremely vigilant about protecting our skin.
Therefore, I was very excited to try StriVectin-SD™ Intensive Concentrate with NIA-114 for eight weeks so I can share with you my experience. I used the product twice daily on my targeted areas of risk including my face, neck and chest. The five ounce tube has really lasted because a small amount of product goes a long way.
I love the creamy texture that is very moisturizing yet it is not greasy at all. I apply it to the skin and it absorbs in less than a minute leaving my skin with a refreshed, pleasant feeling and a lot of moisture. I normally have dry patches and on my check and chest which were no longer visible after eight weeks of using StriVectin-SD™ Intensive Concentrate.
I try to protect my skin at all times but spend a lot of time out in the sun with my active family and unfortunately even with sun block can have a very bad reaction to the sun. Over the two years, any sunburn causes my skin to blister and leave noticeable marks on my skin. We recently headed to a fun filled day at the beach. I had my sun hat, diligently applied sun block and sat most of the time under an umbrella. What I didn't realize is that there was an area of my arm that was exposed to the sun and I knew that I was in for another round of sun blisters. When we arrived home, I immediately took a cool shower and applied the StriVectin-SD™ Intensive Concentrate to the exposed area. I did this faithfully twice everyday day in the morning and before bed and for the first time the sunburn healed without blisters!
There is no doubt that StriVectin-SD™ Intensive Concentrate is a the perfect "weapon" for stretch marks and wrinkles and I can't wait to see even more positive information released from future research regarding this product's potential use in the battle for skin cancer prevention!
You are invited to visit StriVectin to learn more about StriVectin-SD™ Intensive Concentrate (SRP $139) and all of the other anti-aging skin care products available for your particular skin care needs. I didn't realize that there were so many products in the award-winning StriVectin line and look forward to trying more for my sun damaged skin. You can receive free standard shipping on order of $75 or more (sign up for free email newsletters and new customers can get free standard shipping on any order) and get a free gift too!