Shopping Made Easy with Walmart Canada and P&G
Heads up Canada…you can now shop online at Walmart Canada! This is great news for those of you who don't live near a Walmart store or where transportation is an issue. I know we used to live an hours drive to the nearest Walmart before a store opened up in Greenwood, NS. It's a smaller store so I appreciate being able to shop online. Our local Walmart doesn't carry as much of a selection as you would find at the bigger Walmart stores in the city.
I had a look around the Walmart Canada site and loved the selection. They had all my favourite P&G products (and many others!) at awesome prices. The best thing though, in my opinion, is FREE SHIPPING! Shipping can get expensive as Canadians know all too well. I definitely gravitate to stores that offer low or free shipping.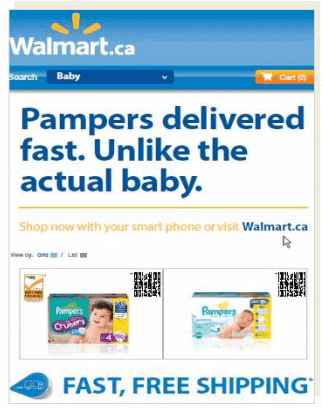 If you are in the Toronto area you may have already seen the Walmart Canada and P&G virtual stores on bus shelters. You can shop by scanning QR codes for your favourite P&G products. They are located on 50 bus shelters across Toronto from June 3rd to 30th. Now I'm nowhere near Toronto so I haven't seen these virtual stores, but they sound pretty neat.
To celebrate the launch of online shopping at Walmart Canada and the QR code virtual shopping, I'm hosting a giveaway with all my favourite P&G beauty products available at Walmart Canada (ARV $83). One Canadian reader will have these fabulous beauty bundle shipped directly to them via Walmart Canada. I'll place the order online once the winner is selected. Then watch for another post detailing my shopping experience!
Check out this beauty bundle prize pack!
Olay Total Effects Refreshing Citrus Scrub
Olay Body Wash plus Crème Ribbons
Gillette Venus & Olay Razor
Herbal Essence Long Term Relationship Shampoo for Long Hair
Herbal Essence Long Term Relationship Conditioner for Long Hair
Herbal Essences Body Envy Volumizing Hairspray
Cover Girl & Olay Simply Ageless Foundation
Cover Girl LashBlast Black Mascara
Cover Girl Outlast All-Day Lipcolour
Cover Girl Instant Cheekbones Contour Blush Peach Perfection
Giveaway closed.