Book Review | Odette's Secrets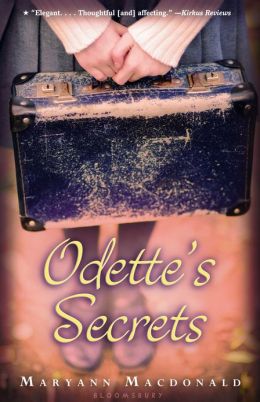 *I received a copy of this book for review, but was not compensated financially in any way. The opinions expressed are my own and are based solely on my experiences while reading this book.*
Title: Odette's Secrets
Author: Maryann Macdonald
My Review:
I cannot even begin to imagine the terror and suffering endured by the thousands of children suffering during the Holocaust and World War II. When my eight year old son was watching a documentary on the history channel with his father he asked us to explain to him what had happened. I struggled with how to explain this to my innocent child who was not aware that such a horrible atrocity had happened in the past.
Odette's Secrets, a Holocaust Novel by Maryann Macdonald is a powerful story for children that will introduce young readers ages 10 and up to the holocaust in a more gentle way that will be impactful but less frightening. It is the true story of Odette Meyers who became a poet and university professor after she escaped from Paris to the French countryside as a young child during the holocaust. Here she must hide her Jewish heritage and even attend Catholic mass with the other children leading her to struggle with forced secrets and inner turmoil. She learns to hide her identity in order to remain safe but when the war is over, she and her mother will return home to Paris and Odette will begin to rediscover who she really is.
Even though my son is only eight, I decided to read this book with him to help answer some of his questions. For me, this book is like a work of art as it is written as free-verse poetry and it beautifully captures the young girl's courageous, innocent spirit that deals with issues no person should ever have to endure or experience especially at such a young age. This book is impactful and moving and in fact there were times that my son became tearful during the story but it was never frightening to him. Odette's Secrets, a Holocaust Novel opened up the door to history to him in a way that he could understand. I will definitely keep this book for when my younger two children will be able to understand the story of one brave girl among thousands of children of WWII, Odette Meyers!
Check out the book trailer!