NewAir USA AC-10000E Portable Air Conditioner Review
Disclosure: I was not financially compensated for this post. I received a sample of the product for review purposes. The opinions are my own, based on my personal experience with the product.
I recently discovered NewAir USA which is a manufacturer of home appliances and features portable air conditioners, ice machines, wine coolers, ice cream makers and more.
With the heat of summer soon upon us, I was excited to test out the AC-10000E Portable Air Conditioner. Living in Florida, cooling during the summer is a necessity and I love the idea of a portable air conditioner. We have central heat and air but the portable air conditioner will come in very handy for those days where we get a nice breeze throughout the family room area but the kid's bedroom is very hot and stuffy. On those days, we have had to run our central air conditioning unit to cool down just that one room which has wasted energy and money.
The AC-10000E Portable Air Conditioner is a sleek, compact sized unit that will cool areas such as bedrooms, small offices and even a "man-cave". I love that it doesn't take up a lot of space but it will cool areas up to 325 square feet and is light enough that it is able to move the unit easily. This product features a washable air filter to provide cleaner air which is good for my daughter's asthma and the no-condensation design allows for long hours of use without extra condensation build up.
My husband and I were pleasantly surprised with how easy it is to set up this air conditioning unit with the included extendable window kit. Literally within minutes you will have cool air blowing into the designated area. It has a convenient remote control and it is so easy to adjust the cooling temperature. We had family visiting on the day that we set up the AC-10000E Portable Air Conditioner and they were shocked at how cool the room was when it was in use. They have been having trouble with their central air conditioning performance and are planning to purchase this unit as a backup cooling unit while it is getting repaired!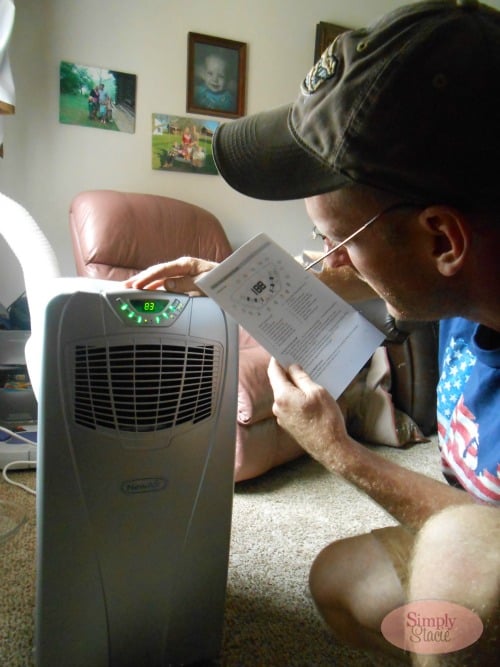 You can feel confident in the quality of this product from NewAir USA because it is backed by a 1 year limited manufacturer's warranty. It is available for purchase online for only $450 and it includes free shipping directly to your home!
You are invited to visit NewAir USA to browse the entire selection of home appliances.