National Geographic Kids Books Review
*I received a copy of this book for review, but was not compensated financially in any way. The opinions expressed are my own and are based solely on my experiences while reading this book.*
National Geographic is our family's favorite television channel and my husband and I have allowed our children to watch the nature shows since they were very young. Therefore, my 8, 6 and 5 year old kids are huge fans of National Geographic Kids book and they love to read the newly released titles adding to their collection.
This summer you there are three titles that are sure to be a hit with kids of all ages including National Geographic Kids Myths Busted!, the National Geographic Kids Almanac 2014 and 100 Places That Can Change Your Child's Life: From Your Backyard to the Ends of the Earth.
"Mommy, did you know that you can see the ancient pyramids of Giza from outer space?" said my eight year old son, Adam who was engrossed for hours reading National Geographic Kids Myths Busted! ($7.95) by Emily Krieger. He loves to recite facts and this is the perfect book for him as it "busts" lots of different myths. For example, he smugly announced that he and his siblings could pick up frogs because "warts are caused by human viruses, not frogs or toads" (something I had told him years ago). The photographs are amazing, the content is fascinating and the text is presented in an interesting format that holds their attention.
I have always enjoyed reading the almanac especially when I was a kid so I was excited to read along with my children to the National Geographic Kids Almanac 2014 ($14.99). This is a treasure trove of information for kids with tons of topics such as Amazing Animals (love that Dino Classification) and my son thought the section on "How to survive a Killer Bee attack!" was mesmerizing reading. We sat captivated around our television screen when Felix Baumgartner leaped to Earth in a free fall from outer space and loved reading more about it is this kids' almanac. This book is certain to become a well-read resource in our homeschool and it will be the perfect book to pack along on our upcoming summer road trip.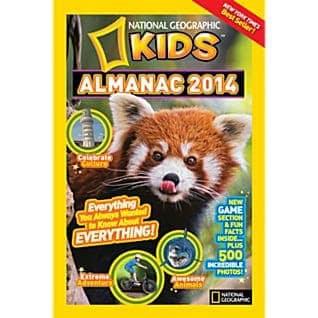 National Geographic 100 Places That Can Change Your Child's Life: From Your Backyard to the Ends of the Earth ($18.95) by Keith Bellows is a wonderful way for children to learn about traveling to different countries and continents. It is a wonderful trip planner and a great way to inspire children to dream about all of the places they hope to travel to during their lives. . It has lots of great ways to plan your travel itinerary including kid-friendly restaurants, hotels and places to visit. We had fun finding each of our top 10 dream vacation spots listed in this book and then found it on the globe (perfect for our homeschool geography class). Get ready to travel the world if only from the comfort of your couch at home including some of our favorite destinations such as the Amazon basin, Barcelona, the Taj Mahal in India and the Great Barrier Reef.
You are invited to visit the National Geographic Kids™ shop to purchase any of these titles or check out all of the fun, educational children's books.