My Neighbor Totoro Blu-ray & DVD Review
*I was not financially compensated for this post. I received a sample of the product for review purposes. The opinions are my own, based on my experiences with the product.*
On May 21st, Disney and Studio Ghibli released My Neighbor Totoro in a Blu-ray/DVD combo pack for the first time. My 5-year-old daughter has been a fan of this movie (and pretty much anything written and directed by Hayao Miyazaki) since my husband first showed it to her months ago, but it wasn't until the Blu-ray that I finally sat down myself to enjoy this delightful movie.
I admit, I was a little slow to appreciate the talent and storytelling of Miyazaki. He finally won me over with The Secret World of Arrietty, and I've now been working my way through all of his other movies. My Neighbor Totoro is now the the fourth of Miyazaki's (as the writer) films that I've watched.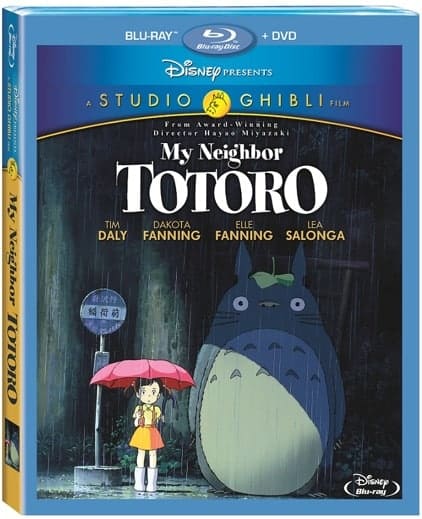 Sisters Satsuki and Mei, ages 10 and 4, move into a home in the country with their father while their mother is in the hospital. The house into which they move is wondrous, inhabited by creatures their father call "soot gremlins." Exploring their new home keeps the girls' minds off of their mother's illness.
While wandering around the yard one afternoon, Mei follows some curious creatures into the woods and discovers a rather large animal she calls "Totoro." What, exactly, is Totoro? A friendly wood sprite, Totoro brings the sisters even closer together and helps them out in their time of need.
My Neighbor Totoro made such a huge impression on Zoe the first time she saw it. She was enchanted by the "acorn present", and acorn became the first long-ish word that she was able to write and spell out loud. She also talked constantly about the soot gremlins and the cat bus, and now I can smile, finally knowing exactly what she means.
This film was first released in 1988, and I'm sad I didn't see it during my childhood. I enjoyed it quite a bit, but I tend to overanalyze everything. This is one of those films that is perhaps most well liked when a person can fully embrace and not question magic and the meaning behind everything.
Bonus Features:
Original Japanese Storyboards See the entire film in storyboard format (in Japanese with English subtitles)
Original Japanese Trailer
Behind the Microphone A behind the scenes look at the English voice artists bringing the characters to life
Creating My Neighbor Totoro Miyazaki discussing the process of making the film
Creating the Characters Miyazaki discussing how they came up with the characters
The Totoro Experience Looking back on the film and the journey to bringing it to the screen
Producer's Perspective How Studio Ghibli got its start
The Locations of Totoro The inspiration for the setting of the story
Scoring Miyazaki A behind the scene look at creating the music for the film