Monsters University Toys Review
Disclosure: I was not financially compensated for this post. I received a sample of the product for review purposes. The opinions are my own, based on my personal experience with the product.
As I sit here typing up this review, my boys and are are counting down the days to the premier of Monsters University on Friday, June 21st. We are big Monsters fans in this house – my boys love the Monsters Inc. movie and both are very much looking forward to the sequel. To further enhance our Monsters mood, we received an assortment of Monster University toys for review.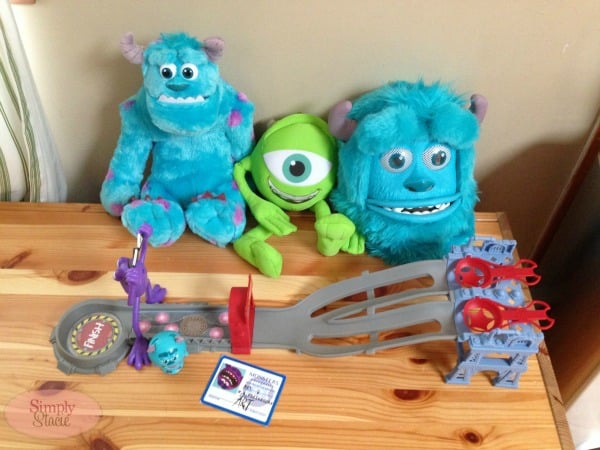 We received:
* My Scare Pal Sully (MSRP $39.99)
* My Scare Pal Mike (MSRP $24.99)
* Sully Monster Mask (MSRP $24.99)
* Roll-A-Scare Toxic Race Playset (MSRP $19.99)
* Roll-A-Scare Monster: Art (MSRP $6.99)
My boys went crazy when they saw all the Monsters goodies waiting for them. My oldest was particularly excited for the Roll-A-Scare Playset. This playset pits two Roll-A-Scare monster racers against each other and when the winner crosses the finish line, their spring-action pops them open in victory! Both my boys love the simple action of this playset. I like that it was easy enough for my two-year-old to understand and to play along with his big brother. The set came with Roll-A-Scare Monster Sully, claimed by my oldest before we even opened the box. My little guy was happy with the Roll-A-Scare Monster Art that's sold separately – and the great thing is you can play with Art and his pals on their own without the playset, they come with college ID cards that when rolled over cause the monster to pop up just like in the game.
The Scare Pals are adorable and fun. My oldest loves Sully and gets a kick out of the noises this Scare Pal makes when you squeeze its belly. The roars and the laughs that come from Sully get both my boys giggling. Scare Pal Mike is pretty humorous, spouting off his typical corny one-liners when you pull on his arms and legs. My oldest is also a big fan of the Sully Monster Mask – he's already asked if he can use it to be Sully for Halloween. This mask has some pretty neat features – allowing the wearer to control the facial movements of the mask with their own movements.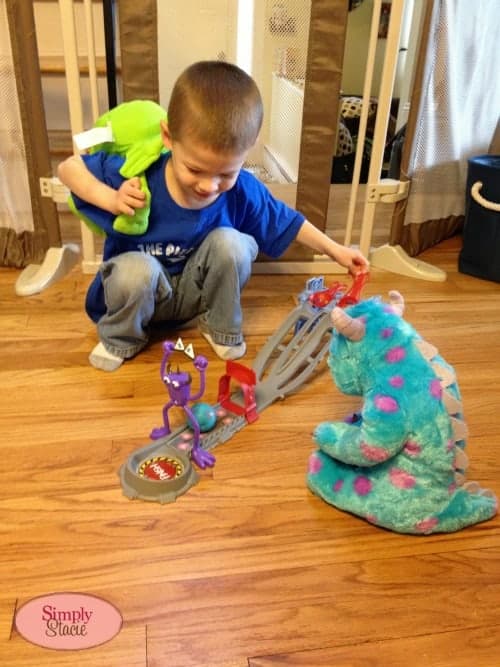 These Monsters University toys can be found at all major retailers. On Twitter, follow all the toy fun with Spin Master Toys and Disney Living. And you can catch Monsters University in theaters.