Book Review | Letting Ana Go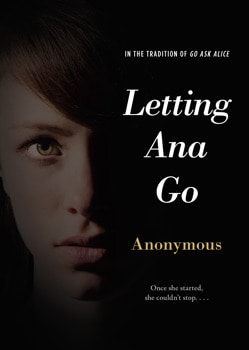 Title: Letting Ana Go
Author: Anonymous
About the Book:
In the tradition of Go Ask Alice and Lucy in the Sky, a harrowing account of anorexia and addiction.
She was a good girl from a good family, with everything she could want or need. But below the surface, she felt like she could never be good enough. Like she could never live up to the expectations that surrounded her. Like she couldn't do anything to make a change.
But there was one thing she could control completely: how much she ate. The less she ate, the better—stronger—she felt.
But it's a dangerous game, and there is such a thing as going too far…
Her innermost thoughts and feelings are chronicled in the diary she left behind.
My Review: 
I wasn't sure how I would like Letting Ana Go because it's a different style of book than what I'm used to. It's written like a diary with each entry dated and in this case, Ana lists out how much she weighs and eats. However, I was completely hooked at only a few entries in. In fact, I don't remember the last time I read a book this fast. One day is all it took me to read the entire book cover to cover. Normally I spend a week or more on a book, but with Letting Ana Go I stayed up all night pretty much because I needed to know what was going to happen. It was just that good.
Ana is an athlete who is at a healthy weight for her height (5'7 I believe). She starts out at 133 lbs which to me seems like an awesome weight to be at. I'd be happy with that for sure. Her running coach asks the team to record what they eat to make sure they are getting enough calories. Also, Ana's parents separate and that leaves a lot of stress on her. I know when I get stressed I can't eat and Ana is the same way. 
As Ana's home life is spiraling out of control with a depressed mom and a dad who left for another woman, she is invited to go on her friend Jill's bought for a short trip. She starts a romantic relationship with Jill's brother, Jack. Again, this makes her watch what she is eating with the stress of starting a new relationship. 
Jill's mom was really something else. She made comments about Ana's weight loss that were not at all appropriate. She is the type of person who thinks being overweight is one of the worst things that can happen to a person. I think those comments also propelled Ana into her eating disorder. It was like the perfect storm.
As the book progresses, I watched Ana become more and more obsessed with losing weight and controlled what she ate. I could see the high she got from losing weight and the feeling of control it gave her. Even when people discovered what she was doing, it was almost impossible for her to stop. It was so ingrained in her mind and changed her perception of herself and the way she looked.
It's an emotional story and I feel like I understand anorexia better now that I have read it. My heart goes out to anyone who is suffering from the disease. Even though it was hard to read towards the end because I knew what the outcome would be, I still am glad I read it for the insight it gave me.
*I received a copy of this book for review, but was not compensated financially in any way. The opinions expressed are my own and are based solely on my experiences while reading this novel.*