Dora the Explorer: Dora Rocks! DVD Review
Disclosure: I was not financially compensated for this post. I received a sample of the product for review purposes. The opinions are my own, based on my personal experience with the product.
My three children have grown up enjoying episodes of the popular Nickelodeon television show for preschoolers and youngsters, Dora the Explorer. My five year old son and six year old daughter still enjoy watching Dora and her loveable sidekicks go on lots of fun, exciting adventures.
They enjoyed watching the latest Nickelodeon™ DVD release Dora the Explorer: Dora Rocks! This interactive DVD has a run time of approximately 69 minutes so it is the perfect title for us to bring on a ride to Nana's house. My little ones enjoyed rocking out along with Dora and the adorable monkey, Boots in this fun sing-along themed show. There are three musical themed episodes including Dora Rocks! which has the characters bringing the microphone and tunes to Benny's Barn for a "rockin' fiesta" celebration which is lively, joyous and lots of fun. In the other episodes, Dora brings Baby Bongo to his first musical concert and the final episode shows the characters meeting Map's nephew, the cute Little Map.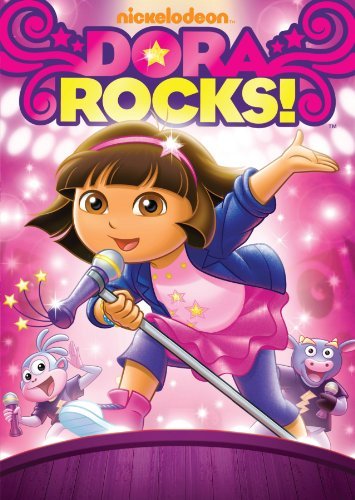 What I have enjoyed most about the Dora the Explorer show is that each episode is an interactive adventure that encourages my children to participate by answering questions and shouting out the answers. They have always loved solving the problems and puzzles throughout the episodes and their little faces beam when they answer the question correctly. There are always lots of laughs and I appreciate that the content is wholesome and educational so I don't have to worry about my children watching their favorite Dora episodes.
Living in Florida, I would love for my children to be bilingual. I have always wanted to learn Spanish (my second language is French) so I think it is great that my children have learned so many basic words in Spanish by simply watching this show.
Dora the Explorer: Dora Rocks! is available for purchase on DVD for the SRP of $14.99 but I found it on sale at the Nickelodeon online shop for only $10.49!