Book Review | Digital Photography Through the Year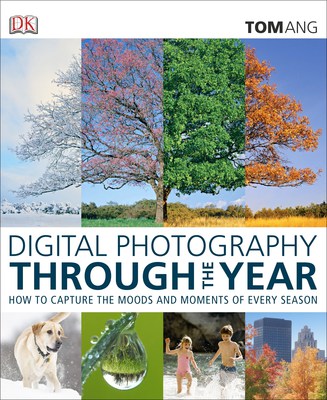 *I received a copy of this book for review, but was not compensated financially in any way. The opinions expressed are my own and are based solely on my experiences while reading this book.*
Title: Digital Photography Through the Year
Author: Tom Ang
About the Book: 
For anyone who's ever wondered what it takes to capture the nuances of a snowy landscape, to do justice to fall leaves, to catch reflections in a dewdrop, or to convey the exuberant joy of a summer picnic, Tom Ang's Digital Photography Through the Year is the essential companion to photography throughout the changing seasons.
Divided into seasons, each chapter features beautiful, evocative images, and provides details of how to recreate the look. With advice on which settings to use, overcoming potential challenges, dealing with tricky lighting situations, capturing and freezing movement, composing with color, and more, Tom's informal style makes stunning photographic results achievable for both the casual cameraphone user and the SLR expert.
My Review:
Now that I know the basics of my DSLR, I've been having fun playing around with different types of photography. Some of my favourite images are landscapes. Nova Scotia is a beautiful province with its rocky coast, quaint fishing towns and numerous lighthouses. I can't wait to get out this summer to travel in our local area and capture these types of images. The book, Digital Photography Through the Year will be very handy in helping me get the best shots especially the section on Seascapes.
Digital Photography Through the Year by Tom Ang  guides you on how to take the perfect shot for whatever kind of situation you are in. It's divided into seasons (early, mid & late) and demonstrates how to achieve the best picture with tips on exposure, lighting, lens, depth of field, etc. 
I appreciate the use of lots of photographs! I'm a visual person so seeing pictures makes it clearer to me on what my pictures should look like too. 
Since we are currently now in Late Spring, I checked out that section first. It details a variety of scenarios you may encounter this time of year including Children Outdoors, Spring Dew and Ponds. There's a waterfall about a 15 minute drive from us in Margaretville so the info on shooting Waterfalls is exactly what I need. I want to able to capture that blurry look so the photo has a  more abstract feel to it.
I also liked reading the tips on how to shoot cats and dogs. I find taking pictures of my cats very challenging! They always move and the photo ends up being a blurry mess. I noticed they suggested an aperture of f/5.6 which was higher than I was using now for those kinds of pictures.
Other topics of interest for me included underwater photography. It's something I would have never even considered. It was neat to see how to do it, but I'm not sure I'm brave enough at this point to jump right in (literally) and do it.
Bonfires are popular in the summer months and I'm looking forward to taking some shots to see how they turn out. The ones in the book are gorgeous. Hopefully mine will turn out half as good!
The Beginner's Photography Guide is part of DK Canada's Dads Rock Boutique. If your special guy enjoys photography, pick him a copy as a Father's Day gift!
Connect with DK Canada on Facebook & Twitter. Also find it on Amazon.ca.