Bink & Gollie Scholastic Storybook DVD Review
*I was not financially compensated for this post. I received a sample of the product for review purposes. The opinions are my own, based on my experiences with the product.*
One of our all-time favorite children's books is the collection of stories about friendship, Bink & Gollie by the talented author, Kate DiCamillo. These heartwarming and charming stories have delighted my three children and it is even fun and entertaining for the adults reading it aloud too.
Therefore, we were very excited to see our favorite characters, Bink and Gollie and their adventures come to "life" in the new DVD release from Scholastic Storybook Treasures. Bink & Gollie….and more stories about friendship (SRP of $14.95) does not disappoint because it definitely captures for us all of the original magic of the book. Watching the delightful characters having to compromise in order to have their friendship blossom is an excellent example for my children, helping to promote friendship, tolerance and respect for one another.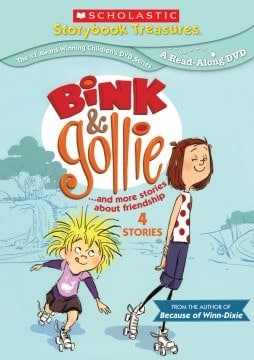 In addition to Bink & Gollie, this DVD also features other friendship themed favorite stories including A Sick Day for Amos McGee and Cat and Canary (an adorable tale about the unlikeliest of friends). There is also a wonderful story that is new to us, The Other Side which opened the door for me to talk to my children about the tragedy of segregation in our country's past.
In addition to these four stories this DVD features bonuses including interviews with the authors and illustrators. This was of interest to my eight year old son who wants to write and illustrate his own book and it was interesting to learn more about this art by the talented authors and illustrators from these excellent children's books.
Bink & Gollie is a great addition to our prized collection of Scholastic Storybook Treasures and my kids and I love it. What makes Scholastic Storybook Treasures such a valuable resource for parents is that it promotes a love for reading and creatively brings favorite children's books to life capturing the child's imagination. I love that it has a read along track so that early readers can practice valuable reading skills and it has been very helpful as part of our homeschool reading curriculum over the years.
There is a vast library of titles to choose from so you are sure to be able to find your child's favorite books. You are invited to visit the New Kideo website to purchase these titles or browse the entire Scholastic Storybook Treasures® collection of DVDs.