Disclosure: I was not financially compensated for this post. I received a sample of the product for review purposes. The opinions are my own, based on my personal experience with the product.
I grew up with the Berenstain Bears. I had a ton of the books, and I can remember the TV specials. I loved those books and shows. I still do! I get to relive that part of my childhood with my kids – they too have a ton of the books and quite a few Berenstain Bears DVDs. I'm happy to say we've been able to expand our Berenstain Bears DVD collection courtesy of kaboom! entertainment.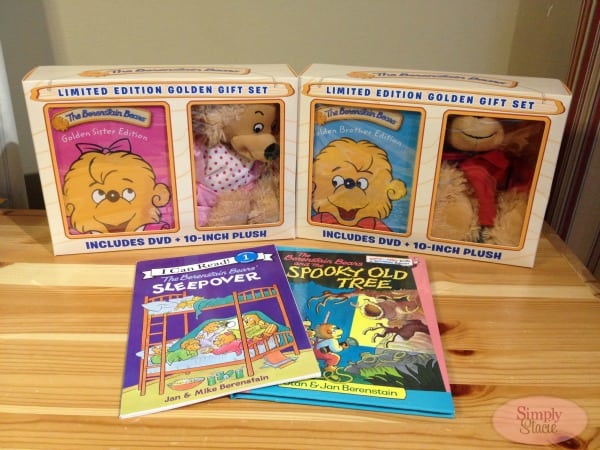 I received two great new Berenstain Bears kits for review, along with two great Berenstain Bears books. The kits are special editions that are now available exclusively at Walmart and Sam's Clubs stores in the US. The Berenstain Bears: Golden Sister Edition includes a wonderful stuffed plush sister bear along with a DVD with episodes that revolve around sister bear. The Berenstain Bears: Golden Brother Edition includes a cuddly brother bear plush and as well a DVD featuring brother bear episodes. Both DVDs run about two hours each, so they're great for movie nights with the kiddos, or long rainy days in the house. My boys love the stuffed brother and sister bears and insist on taking them to bed at night. It warms my heart that they've fallen in love with the Berenstain Bears the same way I did as a child. I enjoyed watching the DVDs with my sons – especially now that I pick up on all the cute little adult references that I'm sure went over my head as a child, like the Lazy Bear Recliner that papa wants and the Bear-bie dolls that sister plays with.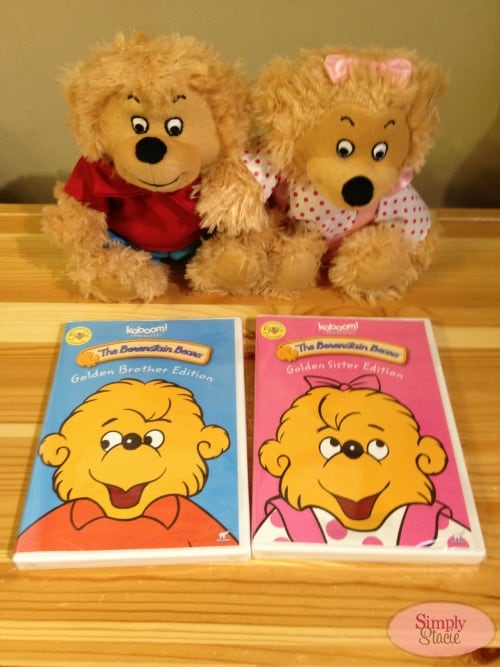 The wonderful thing about the Berenstain Bears series of books and DVDs is that they are true family-friendly entertainment. Each episode features timeless life lessons and traditional community values. You can also feel good about turning on these DVDs without having to worry about inappropriate language or violence. Both special edition DVD sets sell for $19.99 at Sam's and Walmart. These sets would make wonderful gifts for any young child in your life.
To see the full line of kaboom! entertainment titles available, visit their website. You can also find them on Facebook, Twitter, and Pinterest.