Mediterranean Layer Dip
Did you know that May is National Mediterranean Diet month? I have been a fan of this eating plan for years because I love the fresh approach to feeding my family delicious whole food meals. Therefore, I had a blast recreating some of the Zoës Mediterranean-inspired Fresh Take recipes courtesy of Zoës Kitchen!
Zoës Kitchen is a wonderful restaurant with a full menu of Mediterranean inspired meals. Some of their specialties include a Fresh Chicken Salad with a Seasonal Fruit Plate, Greek Chicken Pita, Pimento Cheese Classic Sandwich and Steak Kabobs. There are also delicious side items such as hummus, braised white beans, fresh pasta salad, marinated slaw and potato salad. For busy families Zoës Kitchen even offers complete dinner ideas for four people that is the perfect healthier meal option for takeout. You are definitely not going to want to miss out on Yaya's Hand-Made Chocolate Cake for a rich, decadent dessert!
Our family favorite Zoës Mediterranean-inspired Fresh Take recipe is the Mediterranean Layer Dip which is a wonderful snack, lunch, appetizer or side dish. My children LOVED this recipe and gobbled it all up before I even had a chance to eat my share so we actually made this again by popular request the next day. It includes creamy hummus, juicy tomatoes, diced cucumbers and basil from our vegetable garden, crumbled feta and Kalamata olives served with delicious whole grain chips. I was thrilled that my children raved about this recipe so much and that they enjoyed eating something that is so healthy and good for them. I will definitely make this recipe again and also plan to serve it at an upcoming dinner party as a pre-dinner appetizer for my guests.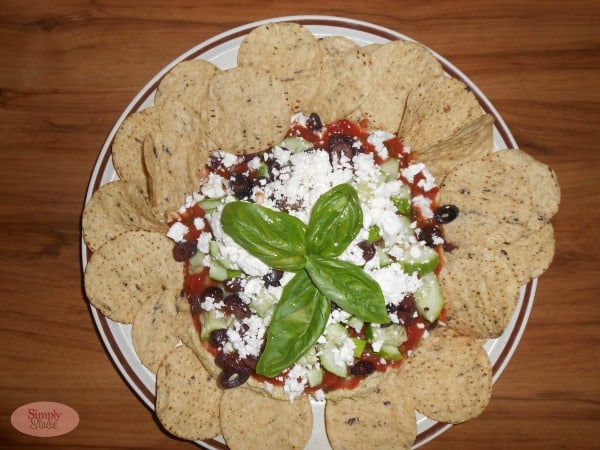 You can make this dish at home easily by picking up a take home tub of Zoës Hummus and then add you own fresh ingredients. You can also pick up a container of Zoës Pimento Cheese and may I suggest making another of our family favorites, the Zoes Kitchen Pimento Cheese & Spice of Life Burger that is absolutely delicious.
You can check out all of the delicious Zoës recipes available for free at Zoës Kitchen. As a mom who takes pride in serving my family fresh, tasty foods, I am delighted to introduce you to Zoës Kitchen which makes healthy and delicious food a great option for even busy families.
Yield: 4
Mediterranean Layer Dip
A delicious snack or easy lunch!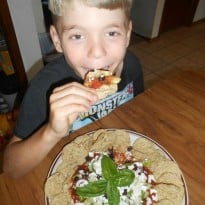 Ingredients:
1 tub of Zoës Hummus
Diced and drained tomatoes
Diced cucumbers
Crumbled Feta
Diced olives
Basil for garnish
Pita chips
Directions:
Spread hummus across bottom of shallow bowl or dish. Layer with diced tomatoes, cucumbers, olives. Sprinkle with crumbled feta and garnish with fresh basil. Serve with pita chips.
Disclosure: I was not financially compensated for this post. I received a sample of the product for review purposes. The opinions are my own, based on my personal experience with the product.