Book Review | Ultimate Dinosaurs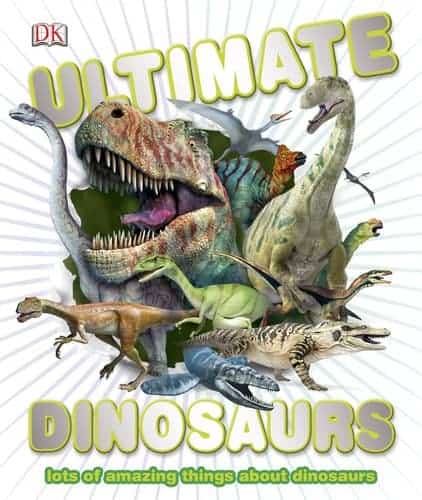 Title: Ultimate Dinosaurs
Author: DK Publishing
About the Book:
A visual exploration of the monsters who once ruled the Earth, Ultimate Dinosaurs explores the prehistoric world through photographic galleries complemented by lively, informative text, making it a delightful reference tool for children and adults alike.
Travel along a conveyor belt to see a prehistoric timeline, piece together the parts of a missing dinosaur at an archaeological dig, or discover the secrets of the Stegosaurus by looking at a close-up of its skeleton. In Ultimate Dinosaurs readers will learn more about the beasts of the Triassic, Jurassic, and Cretaceous Eras — including what dinosaurs ate, how they defended themselves, and what might have made them extinct.
My Review:
My daughter Bridget saw the movie Jurassic Park last year and since then she's been all about the dinosaurs. She studied them in her science class in school and I swear that kid knows more than I do. She can name all the dinosaurs and what they look like, who are the predators, what they eat, etc.  Because of her love of dinosaurs, I'm always on the lookout for educational books that will interest her and maybe teach her a thing or two. She's recently read the book, Ultimate Dinosaurs and her dinosaur knowledge base has expanded even further.
Ultimate Dinosaurs is packed full of information and has lots of pictures. Bridget is 8 years old and is able to read and understand the content. Of course, she says her favourite part is all the pictures, but I know she's reading and learning at the same time. There's four chapters: World of Dinosaurs, The Living Body, Senses and Behavior and The End. There's dinosaurs that I've never even heard of before. The Cylindroteuthis? Liopleurodon? Sinocondodon? Those (and many others) were completely new to me so even I learned a thing or two!
There's a section on fossils which I found very interesting. It shows how fossils are made, the different types and clues to finding fossils.
I also was intrigued by the very last chapter about the extinction of the dinosaurs and the theory is on the cause. Some species did survive though and they are listed in the book too! They include quite a few reptiles.
We've added Ultimate Dinosaurs to Bridget's growing library of books. I'm sure it will be one she will come back to often to look up her favourite creatures.
Find Ultimate Dinosaurs on Amazon.ca
*I received a copy of this book for review, but was not compensated financially in any way. The opinions expressed are my own and are based solely on my experiences while reading this novel.*