Ty Simpkins Talks About Life On and Off Set for Iron Man 3 #IronMan3Event
Ty Simpkins might look like your every day all-American kid, and you might pass him on the sidewalk not knowing that someday everyone is going to recognize his face and his name. At just 11 years old, Ty Simpkins already has a head start on a very promising career in Hollywood. On IMDB, Ty has twenty film and television credits to his name. He has been acting since he was just three weeks old, with a small recurring role in the daytime soap One Life to Live. Ty then went on to work with one of Hollywood's most revered directors, Steven Spielberg (War of the Worlds). Since then, Ty Simpkins has had steady work since 2008, appearing in at least two or three film or TV spots per year.
April 24th began like a regular day for Ty, but once school was out, his mom brought him over to the Sheraton Universal for an interview with us before the big premiere later that night of Iron Man 3. This film is the second of Ty's work that I have seen (the other being War of the Worlds, which I've only seen once when it first came out), though I now plan on renting several of his other films, including one of his most talked about, Insidious.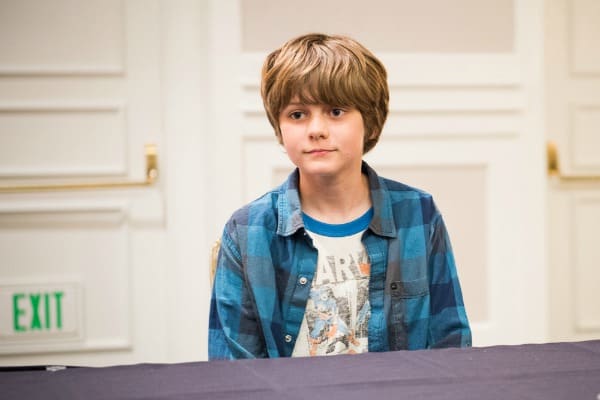 Photo Credit: Dear Crissy
It will come as no surprise that Ty's favorite Marvel action hero is Iron Man. He has always loved the Marvel films, and of starring beside Robert Downey Jr. he said, "It's been my dream…Oh, it's awesome. Like literally, Robert Downey Jr. is my favorite person."
Being on a film set for long hours can be challenging for anyone, but especially for a young kid. We asked Ty what his biggest challenge was while filming Iron Man 3. "One line kept getting annoying. And I had to say retro-reflection panels. And it was really hard. And then once the day was over I knew how to say it. That happens a lot."
Children who pursue a career in acting have two jobs. They film, but they must also attend school. "…Sometimes if we're still in LA on the breaks we'll still go back and go to school and stuff. And I'll see my friends a lot. And then we film. And I have a studio teacher to teach me unless I'm in summer," he said of how his acting and school time is split. Ty enjoys spending his time away from set playing baseball, fencing, and making LEGO stop motion videos.
Ty told us about some of his upcoming films, including the sequel to Insidious, which will be out in theaters in September. But he was most excited about another film, called Conversations with Andy. "it's about a sixth grade kid who is having a tough time…with his family. Like they're getting a divorce and stuff. And then he meets Andy Warhol…Andy helps him out and stuff." Ty hopes to someday work with his biggest role models, who are Chris Evans and Johnny Depp (in addition to Robert Downey Jr.).
Iron Man 3 is the first of Ty's films that is appropriate for a younger audience. However, there still some parts of the film that might be difficult to watch for more sensitive viewers. We asked Ty what he would want parents to tell their children about Iron Man 3 before letting them watch it. He said, "This is upon your decision, you can go– like I wouldn't recommend seeing it in IMAX 'cause I see a bunch of stuff in IMAX like Jurassic Park 3D. That was pretty loud. And I'm not a big fan of loud…you might just want to tell them there is gonna be some like explosions. So you– you just might want to be prepared for shocking things and stuff like that."
"Like" IRON MAN 3 on Facebook
"Follow" IRON MAN 3 on Twitter: @Iron_Man
Visit the Iron Man 3 website
IRON MAN 3 releases in theaters on May 3rd!
*I attended the red carpet premiere of Iron Man 3 and interviewed cast and crew from the film, all expenses paid by Disney and Marvel. All thoughts and opinions are entirely my own.*