Private Practice Season 6 Review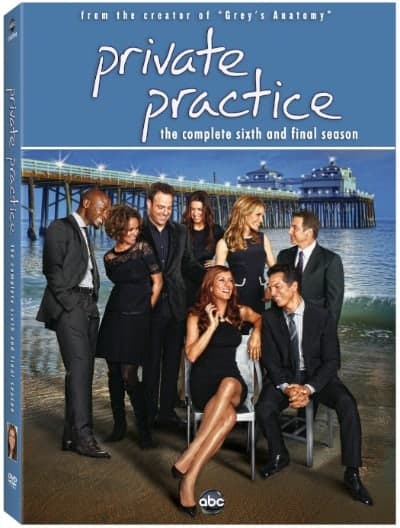 Disclosure: I was not financially compensated for this post. I received a sample of the product for review purposes. The opinions are my own, based on my personal experience with the product.
Title: Private Practice: The Complete Sixth Season
Release Date: May 7, 2013
Synopsis:
From the creators of "Grey's Anatomy" comes the sixth and final season of ABC's emotional, sexy medical drama, "Private Practice."
Addison and the practice are faced with challenges, joys and heartaches when loved ones are lost and new life begins. The team at Seaside Health and Wellness have gathered together for the final round of laughter, tears and unexpected moments in the most no holds barred season yet.
Bonus Features
'Saying Our Goodbyes' – The cast and crew look back on their final days of shooting, and six years together.
Deleted Scenes – a deeper look into the drama of this unforgettable series.
Outtakes – hilarious and heartfelt moments from the set of the emotional final season.
My Review:
***CONTAINS SPOILERS***
It was bittersweet watching the sixth and final season of Private Practice. I seriously love this show! I got hooked a couple years ago after discovering Grey's Anatomy. I own every season. 
This season starts out with a very sad event for all the doctors at Seaside Health & Wellness. Pete dies of a heart attack while on a run. The first few episodes focus on the characters dealing with the aftermath of his death. Violet is in shock and tries to explain to her son, Lucas, why daddy isn't coming back. He's only 3 so he really doesn't understand so she is having to repeat herself over and over again. I cried because Lucas probably won't remember his dad. I didn't see this coming at all. 
My favourite storyline to watch this season was Charlotte's pregnancy with….triplets! The woman who never wanted to be a mother is now carrying multiples. Cooper, of course, is over the moon about it. Charlotte, on the other hand, makes negative comments about the babies calling them ticks and saying she wouldn't care if she miscarried. However, as the show progresses, we watch her growing more attached to her babies as they grow instead her. When she almost loses one, she prays to God to take her instead.
It was tense watching her go into premature labour and deliver one of the triplets early. It was touch and go for awhile with the baby and she had a number of issues and had to have surgery to close her chest. Charlotte was put on bedrest in the hospital and made the nurses there hate her. She was so demanding and mean! Yet, I know she is a good person deep down and is just a little rough around the edges.
Sheldon had a bigger storyline in this season too. He develops prostate cancer and meets the love of his life in the waiting room of the radiation clinic. I really like his character. He's smart and funny! I was glad that he found happiness, but felt bad because his new love interest is dying of cancer and doesn't have much time left. He was so sweet to her and it brought me to tears.
Addison is waiting for her adoption of Henry to be finalized and has meetings with the social worker. Jake is now living with Addison and has become a father figure to Henry. However, something in Jake's past could potentially cause Addison to lose Henry. I felt stressed waiting to hear what the judge's final decision would be.
I'm sad that I won't be seeing anymore of my favourite characters. The show wrapped up nicely though in the last episode so the viewer knows where things are headed for the doctors. Thankfully no cliffhangers! They are happy with full lives. It was a nice ending to an amazing series.