Parker IM Pens Review
Are you looking for a great Mother's Day gift? If so, may I recommend the ultimate in writing luxury and practicality……the Parker IM pen!
I use my own Parker IM pen every day as part of my personal organizer binder and it is my all-time favorite pen. It has extremely smooth writing because of the high quality ink and pen design. I have been using my original pen for six months and I have not yet had to replace the ink because it is designed to be long-lasting and it really delivers on that promise.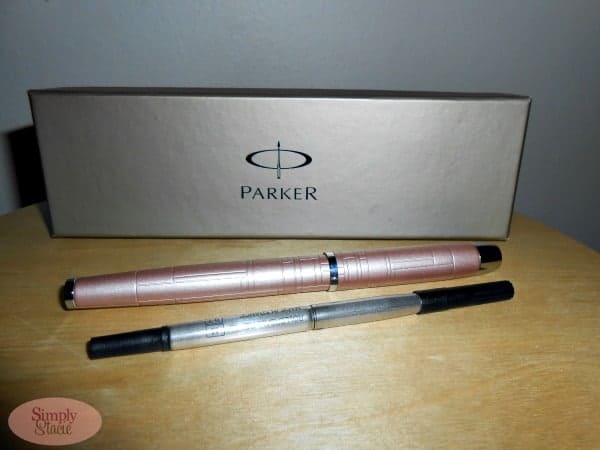 Not only is the Parker IM pen reliable but it has a very stylish design too! There are many different colours to choose from including black and metallic. I recently added the IM Premium Classic Metallic Pink Pen (SRP $46) with chrome trim to my rollerball collection and it is a beauty. I learned that this Parker IM pen uses FreeInk Technology which provides, "consistent, fluid lines and long lasting colours". What I like the most about this pen is that the ink flows so smoothly and there are never any skips, smudges or drips on the paper so it can be used for day to day writing and for more formal greetings cards, thank you notes, letters etc.
Parker IM Pens has certainly made this Mother happy and therefore, I am confident that it would be a great gift idea for any special woman in your life. There are lots of different styles to choose from at Parker so you are sure to be able to find the perfect pen including Fountain pens, Rollerballs styles, Ballpoint and the Parker 5th™. Be sure to pick up some refills too so you will be sure to have it handy when it is needed to change out the ink……I just might panic if I were to inadvertently run out of my precious Parker ink!
You are invited to visit Parker Pens to browse the entire selection of high quality pens and ink! Canadian readers can find Parker Pens at Staples, Wallacks, Basics and many more retailers.
Disclosure: I was not financially compensated for this post. I received a sample of the product for review purposes. The opinions are my own, based on my personal experience with the product.